The cultural and historic resources in the Fort Wayne Cultural Resources Inventory are identified according to property type, which usually reflects the original use, such as house, commercial building, bridge, cemetery, etc. When historic names are known, such as the original or early homeowner (e.g. Thurman Sparkman House) or original names of public, institutional, or commercial properties (e.g. Fairfield Manor), they are included. Houses and buildings in the report are also identified according to folk (or vernacular) form, or academic architectural style.
Folk houses and buildings are those built by carpenters and builders who lack specific architectural training, but instead follow standards for design and construction based on ethnic heritage, local standards, or tradition. Most folk house types and forms can be traced to European sources. In folk and vernacular structures, the intended function often dictates the design, size, shape, and methods and materials of construction. Folk building traditions can be passed from generation to generation for centuries with little or no change in appearance. Few purely folk buildings remain in Fort Wayne.
Academic architecture (or architect-designed houses and buildings) is quite different, in that buildings are designed by trained professionals who work to follow or even set national and international architectural trends. Considerations of style and aesthetics are as important as function, with the goal as a balance of all elements. Because the emphasis on style and fashion is so great, architectural styles grow in popularity, evolve, and fade over time. Often, early examples of a style are quite different from late examples.
Many houses and buildings in Fort Wayne, however, are derived from folk architecture forms, yet make use of architectural elements copied from academic architectural styles, builder's guides, or plan books. These structures are termed popular architecture because they appeal to the masses with traditional, familiar forms dressed in fashionable architectural styles. Popular architecture can also be created as older styles decline and newer styles emerge. Builders often mixed styles and folk forms in eclectic ways never intended by the originators of the styles or forms. Consideration of the variety of influences that can shape a single building adds to our understanding of Fort Wayne's past. When properties listed in this report are examples of popular architecture, both the architectural style(s) and the folk form are listed.
Vernacular House Types
Many houses in Fort Wayne can be identified according to their folk form or vernacular house type. The following guide to Fort Wayne's most important vernacular house types provides approximate dates for their popularity in the city. The numbers given in parentheses with each example refer to the Fort Wayne Cultural Resources Inventory number assigned to the property.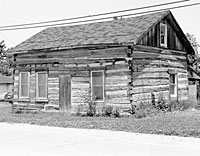 Hewn-log construction (c.1794-c.1850)
The first structures built in Fort Wayne by American settlers were hewn-log construction (or log cabins). German settlers in the middle colonies brought methods of log construction to the New World. This building technique was adapted by British and Scotch-Irish settlers to the traditional form of cottages in the British Isles. Called a single pen log house, this form spread west and south across the frontier, wherever trees were readily available. It was also used as a component to create larger, more elaborate log houses and structures. The single pen log house became a symbol of the spirit, independence, and resourcefulness of the American pioneer.
Although log houses are often thought of as crude dwellings, hewn-log construction was a complex construction technology. Rough logs were hewn (or shaped) with an axe and adze to create a flat surface on two or four sides. This provided a more uniform surface for interior walls and made the exterior walls appear more finished, as well as making a later application of clapboard siding to the exterior easier. Rough-hewn log walls also could better accept chinking materials, making a wall that was more weather tight. The corner notching system, however, was the most important element of log construction. The notching not only forms the corners where adjacent walls meet, but also supports most of the weight of the building. Many types of corner notching were used in the United States, some of which can be linked to different ethnic groups, geographical regions, and time periods. The dominant systems in northeastern Indiana were the V-notch and the half-dovetail notch.
The typical side-gable, single pen log house with a loft above is exhibited in Fort Wayne by the c.1845 log house at 7533 Decatur Rd.
(57001). Although a reconstruction, Historic Fort Wayne (16062) is an elaborate example of log construction.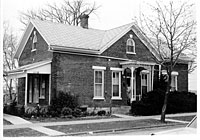 Hall-and-parlor (c.1820-c.1870)
Like the single pen log house, derived from the simple "hall house," the hall-and-parlor house plan also has roots in the British Isles. The hall house was a cottage with only one multipurpose room (or hall) on the first floor. The hall was used as a kitchen, dining room, workroom, living room, and sleeping room. Often, a corner stairway leading to a loft sleeping area was placed in a corner of this room. When additional space was needed in these houses, a second (often-smaller) room was added to a gable end. This "parlor" was used variously as a bedroom, guestroom, reception room, or (like the hall) had a combination of uses. As is the case with many folk house types, the hall-and-parlor house evolved as builders eventually built the two first-floor rooms at the initial construction of the house. In the New World, the hall-and-parlor was most prevalent in the Chesapeake Bay colonies of Maryland and Virginia. It moved westward as settlers spread from that region.
Hall-and-parlor houses were constructed in either brick or frame and were one to one-and-a-half stories with a side-gable roof. Though the facade is sometimes symmetrical, with a central door into the larger room flanked by evenly spaced windows, often the door is slightly off center or the windows are unevenly spaced. This irregularity can reveal both the unequal size of the rooms within and the medieval origins of this house type.
A brick house in the 1800 block of Clay St.
(38091) is a rare local example of the hall-and parlor. An altered farmhouse at 4444 North Washington Rd. (32004) serves as a rural example.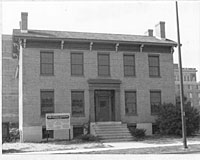 I-House (c.1820-c.1900)
The I-House is perhaps the most common folk house type across the United States. Like the hall-and-parlor house, it was a common house type in England that was built in the American colonies by English settlers. The I-House spread primarily from the middle and southern colonies and eventually reached as far the Mississippi valley and the Great Plains in large numbers. Cultural geographer Fred Kniffen labeled it the "I-House" because he first identified it as a dominant house type across Indiana, Illinois, and Iowa.
As a natural evolution from the hall-and-parlor house, the I-house uses a similar floor plan but adds a full second floor, normally with a side gable roof. The floor plan is similar to the hall-and-parlor, with two rooms on each floor, but may add a central passage, where the stairway is usually located. The I-house is always one room in depth, but often has a rear wing or "ell" for additional space. Because of the popularity and simple shape of the I-House, decorative elements of popular architectural styles were often applied. Federal, Greek Revival, Gothic Revival, Italianate, and Queen Anne ornamentation (or even mixtures of these styles) can be found on nineteenth century I-Houses.
The oldest house known to survive in Allen County, the 1827 Chief Richardville House (55004), is an excellent example of an I-House. The William S. Edsall House
(26027) in downtown Fort Wayne is an I-House with Greek Revival and Italianate ornamentation.
One-and-a-Half Cottage (c.1820-c.1870)
Similar to the hall-and-parlor house, the one-and-a-half cottage also had English roots, but this house type is linked to New England and settlers that migrated from that region. It can be found from New York, through Pennsylvania and Ohio, and into the Great Lakes region of the Midwest.
Based on the floor plan of large New England "double-pile" houses, with four equally sized rooms on two floors, the one-and-a-half cottage was reduced in size to one-and-a-half floors with smaller, informal sleeping rooms on the upper level. These houses had side-gable roofs and often had rear wings, or shed-roof additions which created a saltbox shape. Small "knee windows" were often located in the frieze on the facade, both for decorative effect and for light in the upper level. Many examples of the one-and-a-half cottage are Greek Revival in style.
Fort Wayne has three good examples of the one-and-a-half cottage, the Wells House
(16015) , the Buesching House (12001), and a house at 3024 S. Hanna St. (44042). Each house was built c.1860.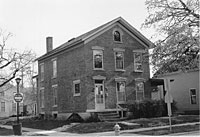 Gable-front (c.1825-c.1930)
The gable-front house was created by two factors, stylistic and economic, which combined to cause a shift of emphasis from the sides of houses to the gable-end. The popular Greek Revival style placed emphasis on the gable ends of buildings because the triangular shape resembled the pediments of Greek and Roman temples. Greek Revival buildings often had a gable-end entrance in order to simulate a temple front. Simultaneous with the popularity of the Greek Revival style, urban areas in the United States grew tremendously. Urban land became more valuable, and city lots became smaller and narrower. The narrower gable-front house allowed the largest house possible on these small lots. Whereas the origins of the gable-front house are not purely folk, nevertheless the gable-front house became an American folk house type. It was built nationwide for generations and was adapted to many different materials and styles.
The gable-front may be either two stories or one story (often called a gable-front cottage), with the gable-end and entrance facing the street. The floor plan sometimes included an entrance hall, with stairway, which ran to the rear of the house. First floor rooms were often parallel with the hall, with parlor at the front, dining room, and the kitchen at the rear. Exteriors could be plain, or decorated with popular architectural styles from Greek Revival to Craftsman. Simple entry or full-width porches were often placed on the facade.
Related to the gable-front house is the shotgun house, which is a narrow gable-front house only one room wide, but several rooms in depth. The shotgun house, related to African folk house types (with French influence), likely came to the United States with free Haitian blacks who immigrated to Louisiana. It spread from New Orleans throughout the south. The colorful name "shotgun house," according to folk tradition, refers to the alignment of all doors within the house, so a shotgun blast fired in the front door would pass through the house and exit out the rear door. As African-Americans migrated after the Civil War they built shotgun houses in many northern industrial cities.
Fine examples of the gable-front house can be found throughout Fort Wayne. Several examples are located in the southern portion of the West Central Historic District. Among these are 825 W. Washington Blvd. (25228), 1001 W. Jefferson Blvd.
(25316), and a c.1850 Greek Revival gable-front cottage at 1104 W. Jefferson Blvd. (25280). A c.1880 shotgun house is located at 2304 John St. (39027).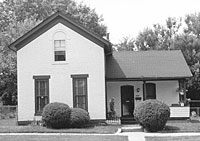 Upright-and-Wing (c.1840-c.1875)
Though the gable-front house was economical on narrow urban lots, large farm families often found the gable-front too small, and they had no limitation of available building space. In order to expand the gable-front house, a one to one-and-a-half story wing was added to the side. This wing was often similar in configuration to a small hall-and-parlor house. The upright-and-wing house is associated with settlement of the Great Lakes region by New Englanders and often made use of the Greek Revival style.
The gable-front (or "upright") element of the house was one-and-a-half to two stories in height. The side-gabled "wing" on the house is always one half to one full story lower in height than the upright. The wing always contained the kitchen, the most important room of the house. A porch often covered the full width of the wing, and in many houses the primary entrance was into the kitchen, reflecting the informal, traditional form of folk houses.
Despite the fact that the upright-and-wing house was developed for rural areas, many were built in Fort Wayne. The best local example is a c.1860 house at 1154 Monroe St. (28087). A c.1870 former farmhouse at 5662 Evard Rd. (04001), which likely was built with orientation toward Maplecrest Rd., is also a good example of the type.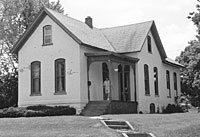 Gabled-ell (c.1865-c.1920)
The gabled-ell house developed after the Civil War as an evolution of the upright-and-wing house. It may also be related to house plans developed for the Italianate architectural style. The gabled-ell can be found nationally, on farms as well as in urban areas.
The gabled-ell uses a similar plan to the upright-and-wing, however the wing (or "ell") is equal or nearly equal in height to the two story upright portion of the house. While taller, the ell does not provide the significant additional width of the wing of an upright-and-wing house. A porch and entry door(s) are often placed in the corner created by the intersection of the front gable and the ell. The porch is usually parallel with the front gable portion of the house. This overall arrangement provides the house with an integrated and compact L or T shape to the ground plan.
Several folk house types are closely related to the gabled-ell. The gabled-ell cottage is simply a gabled-ell with only one to one-and-a-half stories. The gabled-T has a plan that creates equally sized ells on each side of the front gable portion of the house. The cross gable house plan has gable-roofed ells of equal size on each side of the house, creating the shape of a cross.
Gabled-ell houses and cottages are quite common throughout Fort Wayne. Among the better examples of gabled-ell houses are 1309 Stophlet St. (34087) and 431 Archer Ave. (15066). Examples of gabled-ell cottages are located at 511 E. Suttenfield St. (38065) and 2604 Winch St.
(30021).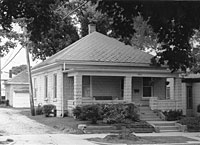 Pyramidal-roof Cottage (c.1890-c.1925)
The pyramidal-roof cottage is common in the south, the Great Plains, and the Ohio River valley. It is associated in those areas with the working class, and was often used as housing on small farms and in company towns. Pyramidal-roof cottages are simple one-story frame houses with a square plan and a variety of room arrangements. They often have a simple porch and the steep pyramidal roof usually has a central chimney.
Though pyramidal-roof cottages were never common in Fort Wayne, a few good examples can be found. The house at 4038 Webster St. (43452) was built c.1915, and 1622 Andrew St.
(15168) is an unusual example of the type, built c.1910 of rock-face concrete block.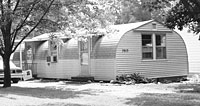 Quonset Hut (c.1940-c.1950)
The Quonset hut was widely used for a variety of purposes during and immediately after World War Two, including military and defense worker housing. These structures used a half-cylindrical framework placed on a slab foundation and covered with corrugated metal or other sheet siding. Because these structures were intended to be temporary, Quonset huts used as dwellings are extremely rare.
Fort Wayne's Waynedale area contains a small number of Quonset hut dwellings that survive from the World War Two era. These structures were likely defense worker housing for Baer Field, the nearby U.S. Army Air Corps base (now Fort Wayne International Airport). Examples include houses at 2826 Prairie Grove Dr. (54016) and 7013 Bradbury Ave.
(58030).
---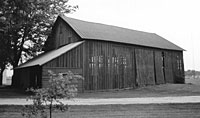 A surprising number of barns and other farm structures are located within the present boundaries of Fort Wayne. The majority of these barns are either English barns or Basement barns. English barns are typical of simple barns known in England. This barn type was brought to New England and the Chesapeake Bay colonies by English settlers. English barns adapted well to the North American climate, and are found across the United States. The rectangular timber frame structure has a side gable roof with a central, large opening on the long side of the building. A central runway is flanked by bays and lofts on each side for storage of hay and grain. Stables or pens are sometimes provided in the bays for housing animals. Basement barns reflect a combination of the English barn with two-level German barn types that have a raised basement. Basement barns utilize the same plan as the English barn, however a raised basement is provided for sheltering livestock. These barns were either built into hillsides, or an earthen bank was provided for access to the upper level.
Examples of English Barns are located on the Junge Farm at 916 Reed Rd.
(23005) and on a former farm at 2701 Wayne Trace (40027). A double runway basement barn is located in Shoaff Park (04006).
---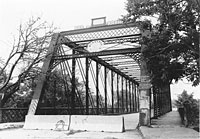 Due to its location on three rivers, Fort Wayne's historic bridges are an important part of its built environment. They not only reflect the history of transportation and engineering, but they are also scenic landmarks. Both metal truss and early reinforced concrete arch bridges survive in the city.
The 1884 Wells Street Bridge
(27020) is the oldest bridge that remains. It is of Whipple through truss metal construction with elaborate Gothic ornamentation. Two rare metal truss footbridges remain in Lawton Park (16079) and Swinney Park (24058). Several Melan truss reinforced concrete arch bridges remain, most designed by A.W. Grosvenor of Fort Wayne. Outstanding concrete bridges include the Tennessee Avenue Bridge (16038) and the Tecumseh-Coombs Street Bridge (21443).
---
Sometimes overlooked as cultural resources, cemeteries provide a unique view of the history of a community and its people. They may contain the only physical evidence of the historical presence of certain people (e.g. Johnny Appleseed and Chief Little Turtle), families, ethnic groups, or nationalities in the community. Much like buildings, cemeteries can reflect the influence of both folk heritage and design professionals. Architects and landscape architects, as well as traditional religious groups and their cultures, have shaped Fort Wayne's sixteen cemeteries and gravesites.
Lindenwood Cemetery (24043), established in 1859, is Fort Wayne's largest cemetery and is the resting-place of many of its prominent citizens. Its scenic Victorian landscape contains many high-style mausoleums and examples of funerary sculpture. Catholic Cemetery (22002) has notable design characteristics, a unique mausoleum, and funerary sculpture, as well as its association with the Catholic faith. The city contains five Lutheran cemeteries, with the oldest being Concordia Evangelical Lutheran (30029). Religious diversity is reflected by Orthodox Jewish Cemetery (56009). Township cemeteries, such as Parker Cemetery (07009), and the churchyard-style Prairie Grove Cemetery (54030) reflect traditional cemetery design.
---
Architectural Styles
As a major urban center, many houses and buildings in Fort Wayne are architect-designed examples of high-style architecture. The downtown commercial area, fashionable residential neighborhoods, and historically important transportation routes all display the work of dedicated architects. The following guide to Fort Wayne's most important architectural styles provides approximate dates for their popularity in the city.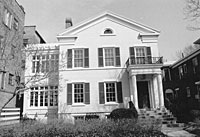 Greek Revival (c.1825-c.1875)
Following the War of 1812, Americans turned away from British influence and turned to classical Roman and Greek models for inspiration, linking the world's first democracy and the young democracy of the United States. The Greek War of Independence (1821-30) aroused nationwide sympathy and led to the overwhelming popularity of Greek Revival architecture from c.1825 to c.1855. Based on the gable front forms of ancient temples, the style was adapted for public, commercial, religious, and residential buildings. Greek Revival buildings are characterized by low-pitched gabled or hipped roofs emphasized at the cornice line by a wide band of trim known as a frieze board. Windows are relatively plain, with six over six or four over four panes of glass. Most have porches with square or round columns. The front door is often surrounded by a narrow transom and sidelights encased in a wide, decorative frame.
Few structures in the Greek Revival style survive in Fort Wayne, however the c.1840 Angell-Hoffman House
(25014) and the Peter Ohneck House (25008) are excellent examples.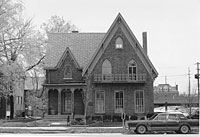 Gothic Revival (c.1845-c.1940)
Although never widely popular for residential architecture, the Gothic Revival style appeared in the United States from about 1840 into the 1870s. Andrew Jackson Downing promoted the style through his architectural pattern books as a romantic style that complimented wooded suburban lots with its verticality and organic ornamentation. Based on Medieval architecture, the Gothic Revival building has a steeply pitched roof that often has steep cross gables. At least one pointed arch window is commonly found, usually in the most prominent gable. Gables and porch roofs typically have decoratively cut verge boards and trim, produced by the then newly perfected scroll saw.
The style was very popular for churches, continuing in use well into the 20th century. Gothic Revival was considered appropriate for churches because of its traditional use in European cathedrals and its strong vertical or heavenward emphasis. Churches in the style typically use heavy masonry construction of brick or stone, with carved stone ornamentation, buttresses, and steeples.
Residential examples of the Gothic Revival style are rare in Fort Wayne. The best examples are the Eakins House
(25111), built 1862, and the J. Ross McCulloch House (28014), built 1883. The c.1873 Meyer-Davisson House (43359) is unique as an example of the rural Gothic cottage popularized by Downing. Ecclesiastical Gothic Revival examples are numerous in the city. Among the best examples are Trinity Episcopal Church (25036), St. Paul's Evangelical Lutheran Church (28078), and St. Patrick's Church (37057).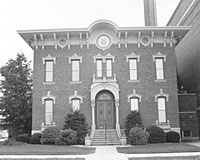 Italianate (c.1850-c.1900)
Like Gothic Revival, the Italianate style was first promoted by Andrew Jackson Downing as a romantic alternative to classical Greek and Roman models. Because the style was more easily adapted to narrow urban lots, and perhaps because it lacked the English associations of the Gothic Revival, it became the dominant style for residential and commercial architecture from c.1855 to c.1880. It continued as a popular style for commercial buildings to the turn of the century. Loosely based on informal Italian farmhouses and domestic architecture of the Italian Renaissance, Italianate houses normally have two stories with a low-pitched roof and widely overhanging eaves supported by decorative brackets. Towers, cupolas, and porches with square, chamfered posts and scroll-cut trim were common features of Italianate houses. (Houses with a gabled-ell form and a large, square tower rising from the facade are called "Italian Villas"). In both houses and commercial buildings, windows are tall, narrow, and often arched at the top. Decorative hoods often capped Windows and doors. Italianate commercial buildings had bracketed cornices and often made use of decorative cast or pressed metal in storefronts and cornices.
The Henry G. Olds House
(25030) and a house at 818 W. Creighton Ave. (35049) are among the many examples of the style in Fort Wayne. The Jacob Foellinger House (43384) is a remaining example of an Italian Villa. Commercial examples include the Keystone Block (26015) and the Welch Hardware Building (38075).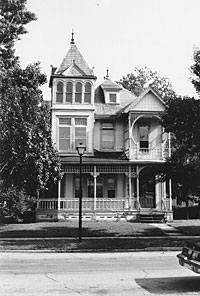 Queen Anne (c.1880-c.1910)
The Queen Anne style marks the height of Victorian-era architectural exuberance in the United States. Though loosely based on Medieval English architecture, the Queen Anne style owes its true character to the development of balloon frame construction and America's late 19th century industrial and railroad expansion. Wire nails, pre-cut lumber in standardized sizes, and building components such as doors, windows, siding, and decorative millwork were factory-produced and shipped by rail to builders across the country. Using this newly available technology, architects developed the hallmark features of the Queen Anne style: asymmetrical facades, complex, steeply-pitched hipped and gabled roofs, and elaborate porches. Queen Anne buildings usually have several different sizes and styles of windows, and exterior walls enlivened by a variety of siding textures and decorative millwork or "gingerbread". Queen Anne commercial buildings, though more rare, are similar to houses in their eclectic use of decorative detail.
Fort Wayne contains many examples of the Queen Anne style. Among them are the R.T. McDonald House (25081) and the Joseph A.M. Storm House (25187), both in the West Central Historic District. The L.S. & M.S. (New York Central) Passenger Depot (20152), built 1889, is a fine example of commercial use of the Queen Anne style.
The Free Classic style is a variation of the Queen Anne that applied classical ornamentation to the asymmetrical Queen Anne house form. Free Classic houses often made use of classical columns, pediments, and dentils. Another variation on the Queen Anne is the Shingle Style. It also used the complex shape and form of the Queen Anne, but in place of an eclectic variety of exterior textures the Shingle Style features a uniform, shingled surface with minimal decoration.
The Dr. Herman Duemling House (36027), located in the Williams Woodland Park Historic District, is an elaborate example of Fort Wayne's many Free Classic houses. The Carole Lombard House (25582) and the Rastetter House (36116) are rare examples of the Shingle Style.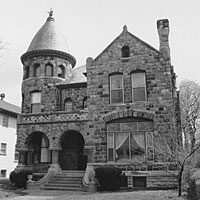 Richardsonian Romanesque (c.1885-c.1905)
Boston architect Henry Hobson Richardson (1836-86) developed this style in the 1870s, combining the heavy masonry and prominent arches of Romanesque Revival architecture with features borrowed from many sources, including late Gothic Revival, Syrian, and Queen Anne. After his death, interest in the style increased with the majority of houses and buildings in the style built from 1887 to 1900. Richardsonian Romanesque buildings are always masonry and usually have at least some rough-faced stonework, often with contrasting colors creating decorative patterns. Wide, rounded arches supported by short, squat columns are characteristic of the style. Round towers with conical roofs are common, usually with arcaded windows near the top. Interlacing floral designs are the most common decorative details. Because of the monumental nature of the style, examples were never common.
Fort Wayne, however, is fortunate to have a number of Richardsonian Romanesque buildings. Among these buildings are the houses of John H. Bass (Brookside)(19002) and L.O. Hull
(25117), The City Building (Old Fort Wayne City Hall)(28013), and the Schmitz Block (26105).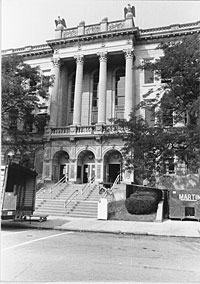 Neoclassical (c.1891-c.1950)
The Neoclassical style was thrust into national prominence by the World's Columbian Exposition of 1893 in Chicago. Organizers of this event desired a unified look for the many individual buildings of the site, which were to be designed by architects from across the United States. It was decided to use the classical style because it was the only one all of them knew equally well. The results were dramatic, with colonnaded buildings clustered around formal lagoons. The exposition was well attended and photographs of the site were widely published. The Neoclassical style was quickly adopted for large public and commercial buildings across the country. The style was also used for houses on a more limited basis.
The Neoclassical style shows a concern for historically correct detail, but not in overall execution or scale. Characteristically, these buildings use an eclectic mix of classical features such as domes, columned porticos, pediments, cornices with dentils, pilasters, keystones, and quoins. Corinthian and Ionic columns were often used on full-height porticos on buildings.
Fort Wayne's Central High School
(28079), North Side High School (10034), and Masonic Temple (28034), all designed by architect Charles Weatherhogg, are outstanding examples of the Neoclassical style. The Louis Mohr Block (26037), built 1891, is an early commercial example while the Chauncey Griffith House (28037), built c.1895, is an early residential example. The Dr. Edward Kruse House (43476) reflects the eclectic development of the style in the 1920s.
A contemporary style related to the Neoclassical was the Beaux-Arts style, named after the Ecole des Beaux-Arts (School of Fine Arts) in Paris. This style used strict classical formality on a grand scale. Unity and integration between architecture and the decorative arts were stressed. The Allen County Court House (28001) is Fort Wayne's premier Beaux-Arts landmark.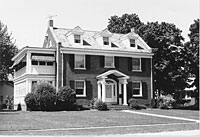 Colonial Revival (c.1890-present)
The United States Centennial of 1876 first drew attention to Colonial and English Georgian architecture. The World's Columbian Exposition of 1893 strengthened that interest and placed a new emphasis upon architecture that faithfully reproduced historical styles. From around 1890, and well into the 20th century, the Colonial Revival style has appeared in various forms, the earliest resembling Queen Anne homes with design elements and details based on Colonial models. By about 1910, the typical rectangular form with a hipped or side-gable roof had become common, although details were frequently exaggerated. Houses and buildings more closely copied actual Colonial models through the peak years of Colonial Revival popularity in the 1920s and early 1930s, but after World War II the style became simplified. Styles such as the Cape Cod carried the Colonial Revival movement into the 1950s.
Common identifying features of the Colonial Revival style include: a symmetrically balanced facade with a central door and entry porch; classically inspired features such as pilasters, columns, pediments, fanlights, and sidelights; double-hung windows with multiple panes of glass; and prominent cornices decorated with dentils or modillions. Although Colonial Revival houses are more common, the style was also used for commercial and institutional buildings.
The Emil Deister House (26050), built c.1893, is an early example of the style. Many later examples of Colonial Revival houses are located in Fort Wayne's early twentieth century neighborhoods. Among the best are the James Haberly House (17232), the Samuel Kraus House (42074), and the Victor Nussbaum House (49107). The Federal Building & Finance Co. Building (28012-demolished) and the Farling-Fletcher Grocery Store Building (43178), both built in 1925, are rare commercial examples of the Colonial Revival style.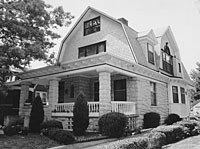 Dutch Colonial Revival (c.1890-c.1940)
Dutch Colonial Revival was a widely popular variant within the larger Colonial Revival movement. The unique gambrel roofs of Dutch Colonial architecture provided an interesting focal point for houses of medium or small size, allowed for more headroom in the second story, and allowed the use of shorter lumber for roofing rafters. Front-facing gambrel roofs or cross gambrels were dominant in the style to about 1915. Side gambrel roofs, often with full shed dormers, are most common on later examples. Decorative details are similar to the Colonial Revival style.
An elaborate early example of the Dutch Colonial Revival style, with a front-gambrel roof, can be found at 1216 W. Wayne St.
(25095). Later examples, such as the John Brooks House (49299) in South Wood Park, are numerous in neighborhoods which developed in the 1920s and 1930s. A unique house and garage (both are in the Dutch Colonial Revival style and built c.1930) are located at 533 Nettie Ave. (10026).
Eclectic Period Revival Styles (c.1905-c.1950)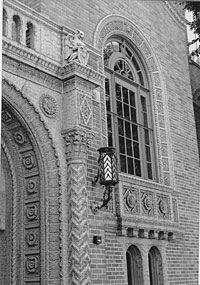 This group of styles, part of the eclectic movement which created the Neoclassical and Colonial Revival styles, first appeared in America near the end of the 19th century when architects began designing romantic houses in faithful period styles for wealthy clients. These styles, like the Neoclassical and the Colonial Revival styles, used historically accurate details and architectural features, but did not strictly adhere to the earlier architectural models. Architects made use of the broad spectrum of architectural history for inspiration. Not only European styles were used, but various New World colonial sources were also copied. For example, Spanish architectural traditions were revived in the Spanish Eclectic, Spanish Colonial Revival, Mission, and Pueblo styles. Other prominent period revival styles include the Tudor Revival (see separate entry), Tudor Gothic Revival, Collegiate Gothic, French Eclectic, Italian Renaissance Revival, and even Egyptian. Eclectic styles grew in popularity through the 1910s, peaking in the late 1920s.
Eclectic period Revival Houses in Fort Wayne include the Spanish Colonial Revival Clem Melancon House (41026), the French Eclectic Frank Friemann House (49104), and the Italian Renaissance Revival Louise Seidel House (17234).
Though many period revival buildings were houses, the styles were often used on public and commercial buildings. Many filling stations were built in the Tudor cottage style, as well as Spanish styles. The Standard Oil Filling Station (38072) on E. Pontiac St. is Spanish Eclectic. The Tudor Gothic Revival and Collegiate Gothic were popular for schools, such as School of the Most Precious Blood (20133). Spanish Eclectic was often used for schools, theaters, hotels, and office buildings. Fort Wayne has several outstanding examples of the Spanish Eclectic, including the Embassy Theatre (26047), the Women's Club/Chamber of Commerce
(25067) , and the St. Vincent Villa Historic District (15001-15012). Egyptian influence is present in the 1918 mausoleum at Catholic Cemetery (22002), designed by architect Charles Weatherhogg.
Tudor Revival (c.1915-c.1950)
The most popular Eclectic Period Revival style, Tudor Revival, became increasingly popular after World War I. The perfection of affordable masonry veneering techniques led to the overwhelming popularity of the Tudor style in the 1920s and 1930s. Based on a variety of late Medieval English influences, Tudor houses and buildings usually have steeply-pitched side gable roofs with at least one prominent front gable and large, decorative chimneys. Their most characteristic feature is decorative half-timbering with stucco or brick infill, which may be commonly found in gables or on second story walls. Brick, stucco, and stone wall surfaces were common, and windows were typically casements of wood or metal, in groups, with multiple panes of glass. Examples built in the late 1910s often mix Craftsman and Tudor features.
Fort Wayne's prestigious neighborhoods of the 1920s and 1930s contain numerous examples of Tudor Revival houses. Among the many fine examples are the Enno Rolf House (17212), the Gaston F. Bailhe House (49169), and the magnificent Neizer-McMillen House (49120). The style was also widely used for filling stations. The Lincoln Highway Service Station (15023) is an elaborate and unusually large example.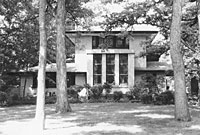 Prairie (c.1905-c.1920)
The Prairie style was developed in Chicago in the 1890s by a group of architects, including Louis Sullivan and Frank Lloyd Wright, who wanted to create a truly American style of architecture. Ornamentation is restrained and emphasis is placed on long, low horizontal lines and wide overhanging eaves to reflect the flat Midwestern landscape. Homes commonly feature low, hipped roofs, large, square porch piers, brick or stucco walls, and leaded casement windows with geometric designs of colored glass. Limestone is sometimes used sparingly as a decorative element. Interiors were innovative for the time, featuring large rooms open to air and light. The style was more commonly used for houses than other buildings. Prairie influence is common, however, in the detailing of many early 20th century buildings although the style itself was never widely popular and faded by 1920.
Fort Wayne's premier example of the Prairie style is the John B. Franke House
(17244), built 1914 at 2131 Forest Park Blvd. Other outstanding examples include the A.H. Perfect House (25094) and the Dr. Calvin English House (36154).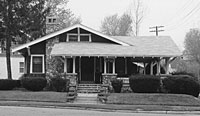 Craftsman (c.1905-c.1935)
The Craftsman style was a product of the British Arts and Crafts movement. As a reaction to the industrial revolution and the excesses of the Victorian era, emphasis was placed on simple design, honesty in construction, and fine craftsmanship. In America, the Arts and Crafts movement was led by furniture maker Gustav Stickley who began promoting the style in 1903 through his magazine, The Craftsman. By 1912 he had published two books of Craftsman home plans which emphasized hearth, home, and family. The style also drew upon elements of Prairie and Oriental architecture, reflected in the work of California architects Henry M. and Charles S. Greene. Numerous house plan books, architectural magazines, and manufacturers of pre-fabricated "kit houses" such as Sears, Roebuck and Co. and The Aladdin Co. further popularized the style. The Craftsman style remained popular to about 1930.
Though Craftsman buildings and two-story houses are plentiful, the most common expression of the Craftsman style is the "bungalow." This term came from India (via England), and refers to a low house surrounded by porches or galleries. Bungalows are one or one-and-a-half story houses of modest size with low-gabled roofs and wide porches, which are often integrated into the structure. Because of their affordable size, yet fashionable appeal, Craftsman Bungalows were widely popular in America's growing middle class neighborhoods of the early twentieth century.
Craftsman houses and buildings are simple in detail and massing, placing emphasis on "honesty" in their materials and construction. Craftsman houses feature a broad, low-pitched, roof (usually gabled) with wide, open eaves; exposed structural elements such as rafters, roof beams, vergeboards, and knee braces; and square or battered porch piers. Brick, stone, stucco, wood siding, and shingles were all common exterior materials. Houses feature open interiors with a prominent hearth, built-in furniture, and natural woodwork. Craftsman commercial buildings are usually brick, with accents of stone, terra cotta, or decorative brick patterns.
Fort Wayne has an astonishing variety of Craftsman houses and buildings, ranging from high style to vernacular interpretations. The Polhamus-Hutner House (49416) and the Harry Frame House (10050) are outstanding high-style Craftsman houses. The Harry Fishack House (42078) and the Jesse Lantz House
(21445) reflect the diversity in Craftsman Bungalow design. The Fisher Bros. Paper Co. Building (26006) and the Foster Park Pavilion (49555) are good examples of Craftsman buildings.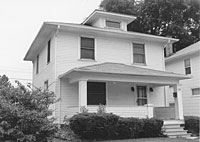 American Foursquare (c.1900-c.1935)
The American Foursquare began appearing in neighborhoods across the United States around 1900, and it was built in great numbers through the 1920s. Many considered it the best blend of practicality, simplicity, and value in a family home. Interior plans were open and efficient, utilizing all available space. Exteriors are box-like in shape, with two full stories, a hipped roof with a front-facing dormer, and a comfortable porch. Many examples rely only upon shape and proportion for visual impact, although the simple form could be dressed in a variety of popular period styles. Colonial Revival examples are common, but Craftsman and Prairie-influenced homes are also typical.
A typical, plain example of the style, the Reo Betts House
(46027), is located at 3201 S. Anthony Blvd. An example with Colonial Revival features, built c.1910, is at 1213 Maple Ave. (34042). Craftsman features enrich 3005 Fairfield Ave. (43477), built c.1914.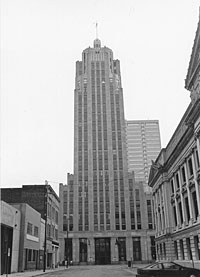 Art Deco (c.1925-c.1940)
Art Deco was a popular style for commercial buildings, theaters, and apartment buildings in the years between the World Wars. Art Deco architecture emerged from a broader decorative arts movement that began in Paris prior to World War One and spread after the war. It was further influenced by Egyptian and Aztec decorative motifs discovered by archaeologists in the 1920s. The style is known for its emphasis on verticality and stylized, abstract geometrical ornamentation such as zigzags and chevrons.
The Lincoln Bank Tower
(28006) is the best known example of Art Deco architecture in Fort Wayne. The Powers Hamburgers Building (26092) and the Coca-Cola Bottling Works (39017), both built 1940, are late examples of the style.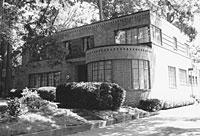 Art Moderne (c.1935-c.1950)
A growing awareness of industrial design and the sleek shapes of airplanes, ships, and automobiles gave birth to the Art Moderne style in the early 1930s. Though often confused with Art Deco, Art Moderne is quite different in its emphasis on streamlined, horizontal forms and smooth, curved surfaces. Decoration is minimal, with simple horizontal bands, glass blocks, and porthole windows. Occasionally, Art Deco decorative motifs are found. Although commercial buildings are more common, houses are also found in the style.
The Greyhound Bus Station (26048-demolished), built 1938, was Fort Wayne's best example of the style. The Komito House
(42280), built c.1937, is an outstanding residential example by architect A.M. Strauss.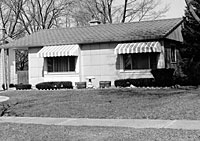 Modern Styles (c.1935-c.1956)
Modern styles, or those of the immediate pre and post World War Two era, are just beginning to attract the interest of historic preservationists. Fort Wayne has several groups of cultural resources that have significance in "recent history." Among these are buildings in the Modern styles, Minimal Traditional style houses, and Lustron houses.
The International style (c.1925-present) was developed by European architects in the 1920s. They abandoned historical architectural styles and worked to exploit new materials and technology. Using a structural steel skeleton, buildings were covered by a thin, non-structural skin. Asymmetrical facades starkly expressed the structure behind. Use of the International style was very limited in Fort Wayne. The Contemporary and Modern styles (c.1945-present) continued this movement, however they softened elements of the style to better integrate buildings into their environments. A good example is I.O.O.F. Lodge No. 14 (28094), designed by architect A.M. Strauss. Fort Wayne's landmark example of Modern architecture is the Concordia Senior College campus (03003) by Eero Saarinen.
Houses in the Minimal Traditional style (c.1935-c.1956) are, for the most part, designs that were published in architectural plan books. These houses were designed by architects for homeowners who desired traditional houses, yet also wanted fully modern homes with all of the latest features such as an integral or attached garage. The mass publication of these plans placed innovative homes within the reach of many Americans. The architectural detailing of the Minimal Traditional style borrowed from the popular Colonial Revival and Tudor Revival styles, yet mixed and simplified features greatly. Occasionally, Art Moderne features such as glass block and curved walls were incorporated into the design. Minimal Traditional houses appear in many Fort Wayne neighborhoods, and are numerous in the potential Lafayette Place Historic District (51001-51419). A unique example is located at 1802 Purdue Dr. (14006).
Lustron Houses (c.1948-1951) are all-steel, factory produced homes which were designed to help fill post-war housing shortages. These small, vaguely Art Moderne houses were produced by the Lustron Corporation of Columbus, Ohio and shipped via trucks to the building site for assembly. The roof and walls, both inside and out, were made of porcelain enameled steel finished in fashionable colors. Lustron interiors featured cozy rooms with built-ins, and a "combination dishwasher-clotheswasher-sink" was available for the kitchen. Fort Wayne has seven Lustron houses within its limits. An excellent example, the Rogers & Jessie Filler House (50006), is located on Maple Grove Ave.