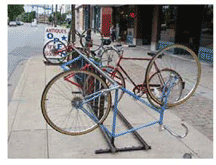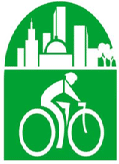 "Better options for cyclists result in more bicycles on our roadways. Bicycles reduce congestion on our streets, improve air quality and give bike riders a built-in workout. Better bicycle infrastructure is really a solution to many of our urban challenges". - Mayor Tom Henry
Click

HERE

for the




Commuting/Riding Tips

Click

HERE

for the


Rack & Roll Guide
To Bikes on Buses

Click

HERE

for




Bike Rack




Guide

Click

HERE

for




Downtown




Bike Parking

Click

HERE

for




Bike Rack




Request form
Find out more about the new Three Feet Law in Fort Wayne
HERE

.
---
Click Here for the BIKE FORT WAYNE PLAN
Are you interested in riding your bike to more places in Fort Wayne? Then you are in the right place. Mayor Tom Henry is committed to making Fort Wayne a better place to ride your bike by creating a transportation network that works for bicycles, pedestrians, vehicles and transit.
Mayor Henry knows Fort Wayne's cyclists like to ride for recreation but face challenges when riding for transportation. To change this, Fort Wayne is making plans to improve the biking experience on city streets to create a bike-friendly community where bicycles and vehicles share the road. With the help of the public, the City of Fort Wayne is writing a 10-year plan to help Fort Wayne residents and visitors "ride their drive." The BIKE FORT WAYNE Plan focuses on three areas to encourage the use of bicycles for transportation:
designing and building a bikeway network

education and outreach to cyclists and drivers;

laws that support cyclists on the roadway.
BIKE FORT WAYNE is more than a written plan; it is a campaign to increase the number of people who ride their bikes for transportation. This will happen with the commitment of bicycling advocates, planners, engineers and the public to creating safe environments on our streets and spreading the word about the benefits of cycling and the rules of the road.
From the start of this plan, the City engaged residents to identify opportunities to make Fort Wayne more bike friendly and build on the success and connectivity of our greenway/trail system. In Fall 2008, the City received more than 4,000 responses to a bike-use survey indicating where people ride their bikes and for what purpose. The survey and a community bike summit in March 2009 demonstrated how important biking is to Fort Wayne residents and inspired Mayor Henry to establish a task force to advise City staff throughout the planning process. The BIKE FORT WAYNE task force has nearly 40 individuals representing the diversity of bicycling stakeholders. The task force has been instrumental in establishing goals, objectives and strategies for the plan plus ideas for the bikeway network.
What started as a plan to add bike lanes to City streets has become a comprehensive strategy to make it easier for people to use bicycles as transportation in Indiana's second-largest city. Mayor Henry envisions a day when Fort Wayne residents think of bicycles as a practical, reasonable and healthy transportation option. He invites you to be part of making Fort Wayne bicycle friendly.