Office of International Trade

---
New!!  Click HERE  to read about the expansion of Foreign Trade Zone #182.
---
June 14, 2012
EXPORTING 101 - LEARN THE BASICS
for new-to-export and small exporting firms
Info and Registration


---
MISSION:
To assist Northeast Indiana companies to expand their markets to international regions.
The key to success in the future economy is ability to compete globally. Fort Wayne and Northeast Indiana have great potential and resources to be successful in a global arena: Fort Wayne International Airport, Foreign Trade Zone, convenient central location within the central manufacturing and service region of the United States.
What most of the local businesses need is international protocol know-how, information, global exposure of management via education or past business experience and proper international assistance. To meet these needs the City of Fort Wayne established the Office of International Trade Services as a part of the City's Economic Development Department. By providing assistance, educating and promoting Global Trade, we can make the process of importing or exporting easier for local companies, bring new businesses to the area, help existing businesses to expand to overseas markets and create more higher paying jobs.
Scenes from the Oct. 1, 2008 6th Annual Int'l Trade Conference
and Expo at the Grand Wayne Center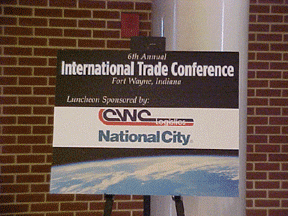 ADDITIONAL RESOURCES
Indiana District Export Council
Indiana Economic Development Corporation
Contact us: Elissa McGauley, International Trade

If you need Acrobat Reader to view pdf documents, please click ACROBAT for a free download.