Williams Woodland Park Historic District
The Williams-Woodland Park Local Historic District was established in 1985 and a slightly modified area was listed on the National Register in 1991. The district is significant as an early planned residential development in Fort Wayne, as an intact collection of outstanding late 19th/early 20th century domestic architecture, and for its association with many prominent Fort Wayne citizens.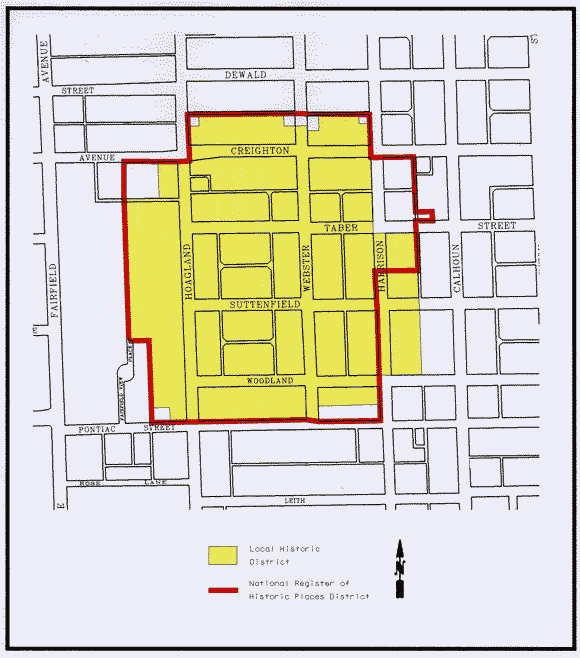 Once part of extensive landholdings controlled by Jesse Williams, chief engineer of the Wabash and Erie Canal, the area which now comprises the Williams-Woodland Park Historic District began as a private park opened for public use by the Williams family in the 1870s. After Jesse's death, the Williams family made repeated offers to sell the park to the city at half the appraised value. When these were refused, Henry Williams and his co-heirs platted the grove and in October of 1903, sold the 66 Williams Park lots to Louis Curdes, a dealer in real estate. With streetcar lines extending to downtown Fort Wayne, and a surrounding stable, upper-middle class neighborhood, the Williams Park development was a realtor's dream. A newspaper article reporting the sale of lots described the park as "A tract of the forest primeval in a populous part of town, invested on every side by paved streets, expensive dwellings and all other evidences of a great city."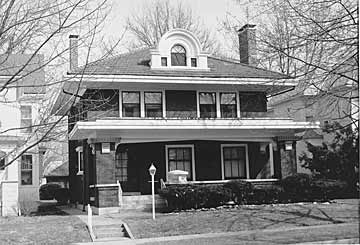 Incorporating development-wide deed restrictions, which were perceived as a device that would enhance, rather than decrease, property value, Curdes sold all of the lots by lottery in one evening at the Fort Wayne Commercial Club.
The uniform character and current park-like atmosphere of the district is a result of the thoughtful layout for the Williams-Woodland Park Addition, which encouraged the retention of existing trees. Similarly, consistency among houses in size, scale, and style, as well as uniform setbacks, creates a pleasing rhythm along the district's streets.
Nearly 70 per cent of the houses were constructed between 1900 and 1915 with Queen Anne and Colonial Revival being the dominant styles.
Despite the fact that the buildings which comprise the Williams-Woodland Park Historic District were constructed during a short period of time, and represent a relatively small number of architectural styles, the houses are individually distinctive and reflect well considered plans with attention to detail. As a fashionable neighborhood with a concentration of homes occupied by the well to do, many of these residences were designed by architects while others were based on designs in pattern books. The vast majority of the individual houses, as well as other elements of the district, have a high degree of integrity. As such, the district succeeds in conveying an accurate picture of a late 19th/early 20th century upper-middle class neighborhood.