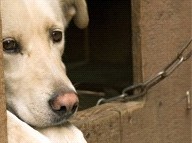 The City Animal Care Ordinance specifies when dogs can be tethered outside and bans tethering dogs that have not been spayed or neutered.
Dogs are no longer allowed to be tethered between the hours of 11 p.m. and 6 a.m. During these hours dogs can be inside a fenced yard, kennel, or garage with a proper dog house.
No dog under the age of six months and no dog that hasn't been spayed or neutered can be tethered at any time, day or night.
Spayed and neutered dogs can be tethered between 6 a.m. and 11 p.m., but no more than three may be tethered at the same time on one property.
Multiple altered dogs may not have contact while they are tethered.The required six foot lead may not reach within three feet of another property, public thoroughfare, or right of way.