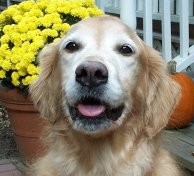 $25 on all dogs that are over the age of 5 years: Older animals require more emotional and medical attention than younger pets, and finding new homes for them can be challenging. Thanks to a generous Maddie's Fund grant, we are able to reduce the cost of adoption to only $25 on all dogs that are over the age of 5 years in hopes that they will find wonderful homes quickly. The added stress of shelter life can be especially hard on older pets, and finding good homes for them as quickly as possible is a priority.

Added Benefits of Adopting an Older Pet Calmer temperments: Older pets are less likely to have that crazy puppy/kitten energy that can challenge even the most patient of pet owners! Older pets often enjoy just hanging out with their people or going for quiet walks.

What you see is what you get: You know how big the dog is going to get (he's already full grown) and you know his temperament.
Many older cats and dogs are already good house pets: They're housetrained/litter trained, know what they should (or shouldn't) chew, and are happy to find a soft place to nap. And they're happy to share their nap time with their people, too.
You give a deserving pet a loving home: Every animal needs love, even older ones. They still have lots of love to give and deserve a family that will return that love.
Homes Suitable for Older Pets: There's no easy answer to figuring out what kind of home is best suited to an older pet. Senior pets' personalities and abilities are as varied as younger dogs (and people)! Some of the things to consider, though, include:
Easy access around the house: It's easier for older pets with joint or mobility problems if they don't have to navigate a lot of steep stairs. There are ways around this, of course - many companies these days manufacture ramps that will help dogs and cats climb onto their favorite couches, beds, etc.
Quieter household: Young, rambunctious children or dogs (or other pets) might not be the best fit for a senior pet that enjoys his sleep!
Families willing and able to care for an older pet: This includes time, effort, and finances. Many cats and dogs live to a ripe old age, happy, active, and with only minor health issues. However, if the aging process starts to catch up with the pet, his family should be willing and able to put in the extra effort and money into his care.

Older Pet Health and Financial Considerations: Many people believe that older pets automatically come with health problems. While it's true that older animals, just like older people, may have health issues to consider that younger animals might not, we should note that younger animals can have health issues too. Being young doesn't always mean perfect health, unfortunately. Taking care of health issues is just a part of being a pet owner!
Health Issues in Older Pets should be taken into consideration because they will affect the adoptive family too. It's always best to go into an adoption with as much information as possible so that you are prepared for additional care or costs that might occur. Older pets that have been surrendered to humane societies or rescue organizations by their previous owners may have more information available about them.

Treating illness or injury always comes with a financial responsibility too. The adoptive family should be prepared to manage any known health issues their new friend has, as well as any that might be found (or might develop) as they continue to age.

Many older pets continue to lead active and healthy lives. Watching them happily basking in their retirement years is a great joy!
Can Older Pets Bond With New Families? So many times I've heard people say, "I want a puppy because it will bond with our family." They worry that older dogs won't be able to bond with someone new. There's no need to worry. Older pets do bond - and bond very tightly with their new families, just as much as younger pets bond. People who have adopted senior pets often remark that their pets seem to understand that they've been given another chance and are grateful to have loving homes! Bonding with any pet takes time and effort (although sometimes a pet and a person will hit it off right away). With an older pet who's led a full life before meeting you, it might take a little longer. Remember, he could be missing a family he's lived with for many years, or if he was mistreated in the past, he might take longer to form that bond. But once a pet learns to trust you, that bond will be close. Some of the things you can do to help your older pet adjust include:

Use your scent. Give him an article of clothing that you've been wearing (don't wash it), and let him sleep with it. Put it somewhere that he associates with comfort, like his doggy/kitty bed. He'll learn to associate comfort with you too.

Spend time with him. Just sit with him and pet him; gently groom him; or take him for a walk or play-time at the lake. Let him learn that being with you is a fun & positive thing to look forward to.

Let him sleep near you. Ok, not everyone likes to have a dog or cat hogging the whole bed (and some dogs don't like sleeping on the bed since it's so hot and crowded)... but make up a big, comfy sleeping area / doggy bed in the bedroom with you.
Older pets deserve a good home just like the younger pets do. The goal of the Old Friends Pet Program is to find loving homes for our older homeless pets.