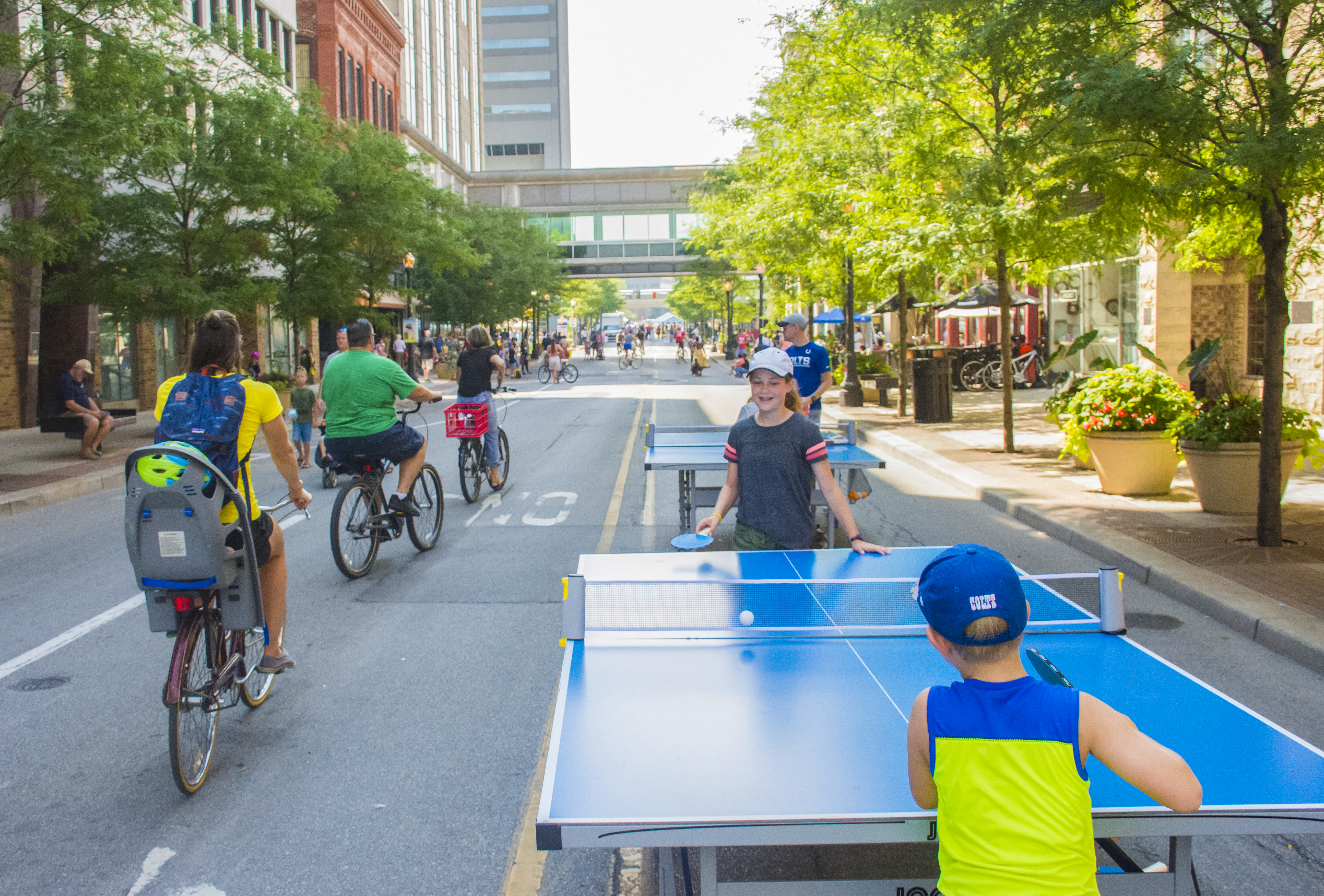 The old saying goes "time flies when you're having fun."

These famous words couldn't ring more true when discussing the summer of 2022 in Fort Wayne.

Not too long ago, residents were making plans to spend their summer days enjoying downtown festivals, music events, and farmers markets. It seems with a blink of an eye, summertime is coming to an abrupt end.

Before saying goodbye to summer, there is another downtown event has quickly become a can't-miss activity every year. And that's Open Streets Fort Wayne.
In its fifth year, Open Streets Fort Wayne invites residents and visitors to enjoy a safe and fun day playing in the streets of downtown Fort Wayne. It's a chance to experience our city in a completely new way.

On August 7 from 12:00-4:00 p.m., more than 1.5 miles of downtown streets will be closed to vehicles and open for only walkers, runners, and cyclists. The 25 blocks of closed streets will transform into an open playground for people of all ages with more than 100 games, musical acts and performances, sporting activities, and special food items. Better yet, the event is free to attend.

The concept of "open streets" isn't new to Fort Wayne or to cities across the world. The first open streets event took place in Bogota, Columbia, in 2002. Today, more than 100 cities around the globe, from Cape Town to Toronto and Pittsburgh to Fort Wayne, are coming together for this free, fun-filled day.

"We are so excited to be able to bring this international movement back to Fort Wayne for the fifth year," said Neil J. Miller, Program Manager for Open Streets Fort Wayne. "Open Streets is an eye-opening experience that challenges you to think beyond cars and experience roadways that are open for play, for meeting new friends, and for celebration."

Past attendees to Open Streets Fort Wayne will recognize many familiar activities, including the bubble machine, BMX show, pickleball, giant board games, dancing, street hockey, and so much more. Several local businesses along the route that are typically closed on Sundays will open their doors. Surrounding neighborhoods will welcome visitors into their communities.
Also returning this year is the Bike Decorating Contest and Bike Parade. Here are the event details:

The Bike Decorating Contest and Parade's theme is "Electrify Fort Wayne" because Fort Wayne is a city that is surging to new heights. All ages are encouraged to join in. Free registration for the Bike Parade opens at 11:00 a.m. at Promenade Park, followed by the Parade at 12:00 p.m., which will begin in Promenade Park. Multiple awards will be presented, including decorations that best capture the Electrify Fort Wayne theme, or several other categories that can be found on the website at openstreetsfw.org. Some award categories will have separate awards for children, adults and families. (Parade participants are not required to decorate their bikes, but the judging categories are for those with decorations.) Interested participants can visit openstreetsfw.org to register for the bike decoration contest and to learn more about the bike parade.

The summer of 2022 will be remembered as a time when our world gathered again. Residents were reunited with their communities. Friendships were renewed and restored. Yet, it all happened so fast.

Along with Open Streets Fort Wayne, the final weeks of summer will also feature two popular community events in Be A Tourist in Your Own Hometown (September 11) and the Johnny Appleseed Festival (September 16-17). Make sure to mark your calendars for these events, too.

By bringing residents back onto the streets and connected once again, Open Streets Fort Wayne is a fitting end to a fun summer.