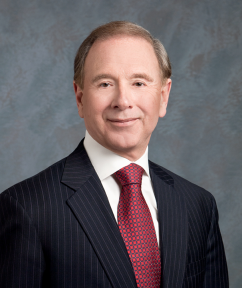 John Crawford, Fort Wayne City Council At-Large, is an active Republican who combines a successful professional career with a busy, community-focused life.

Born in 1949 in New Orleans to John and Meddie Crawford, he graduated in 1968 from Louisiana State University in New Orleans. In 1972, he graduated from the LSU Medical School and was named to the Alpha Omega Alpha Honor Medical Society. He completed an internship and residency in radiation oncology at the Medical College of Virginia in Richmond, Va., where he was named Chief Resident.

John moved to Fort Wayne in 1976 to enter private practice, working with cancer patients utilizing radiation therapy. He has been active in a number of community organizations, including serving as a past board member of the Allen County Cancer Society and past board member of the Fort Wayne Healthy Cities Committee. John is currently the Medical Director of Radiation Oncology Services at Parkview Regional Oncology Center.

John Crawford is passionately committed to the Republican principles of lesser government and greater individual responsibility. He has been active in the Allen County Republican Party previously serving on the financial committee, and has been actively involved in many Republican candidates' campaigns. His interest in Republican principles led him to apply for entry into the first class of the Indiana Republican Leadership Forum. The intensive six-month course included lectures from many prominent Hoosier Republicans, including former Vice President Dan Quayle, U.S. Senator Dan Coats and former Indiana Governor Bob Orr; as well as educational trips to Washington, D.C., and the Indiana Statehouse to see government work firsthand.

John Crawford believes the most important function of government is to provide for public safety. In an effort to learn as much as possible about this issue, John attended and graduated from Fort Wayne's first Citizen's Police Academy in 1993. To graduate from the eye-opening program, John had to complete 42 hours of instruction, as well as conduct interviews with public safety officials to learn firsthand about their difficult jobs and what is needed to make Fort Wayne a safer city.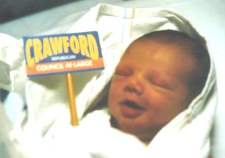 First elected to Fort Wayne City Council in 1995, John has begun his fifth term on Council. He has been elected Council's President four times and currently serves as co-chair of the board's Finance Committee. A strong fiscal conservative, John has fought to limit the size and scope of city government. John married Marcia Mitson in 1994. They make their home on the northeast side of Fort Wayne with their son, Grant. Grant has been interested in the political process from the day of his birth. Grant served as John's campaign chairman.

In addition to his professional life, John has many interests. He is an avid reader, enjoys outdoor activities and is a competitive tennis player.
Councilman John Crawford may be reached at:
This email address is being protected from spambots. You need JavaScript enabled to view it.
(260) 433-0295
or through the City Council Office at:
This email address is being protected from spambots. You need JavaScript enabled to view it.
200 East Berry Street, Suite 120
Fort Wayne, IN 46802
(260) 427-1445