Fort Wayne Animal Care & Control is dedicated to promoting animal bite prevention through education to the general public and to our most vulnerabe population - children.
Through our fun, interactive Bite Free Superhero program we teach children basic warning signs and the appropriate way to interact with dogs. Students go on a mission with us to learn their new super powers - the ability to "speak dog". Together we learn how to tell when a dog is uncomfortable so we can be their superhero. Students learn that bites happen for lots of different reasons, but when we respect what a dog is telling us and use our super powers we can prevent bites!
Click HERE to schedule your Bite Free Superhero program at the shelter or in your classroom!
Check out this Kind Club Short focusing on Bite Prevention!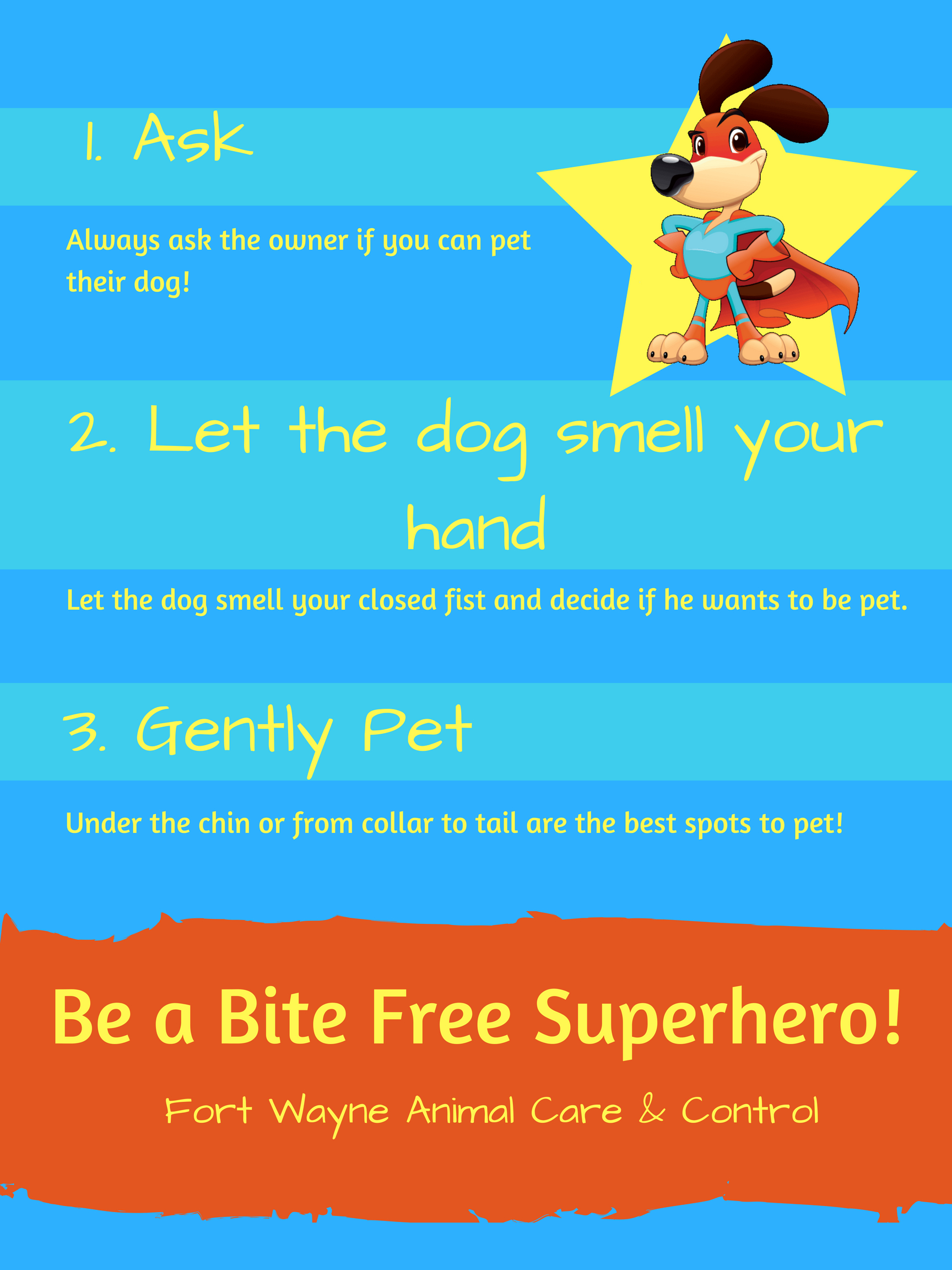 Never approach a dog in a yard.
Never approach a dog with puppies.
Never approach an injured dog.
Never approach a dog while it's eating.
Never try to take a toy or treat away from an unfamiliar dog.
If the dog approaches you - stand still like a tree with your arms to your side and stay quiet. If it knocks you down, lie on the ground like a log and cover the back of your neck.

Have your dog spayed or neutered.
Sterilization reduces aggression, and a dog's tendency to roam. Sterilization will not reduce a dog's protective nature.
Take your dog through obedience training classes so he will learn to be a trustworthy member of your family and community.
Avoid chaining your dog for extended periods of time.
Chaining increases aggression and isolates your dog from learning the normal sounds, smells, and behaviors of children and
adults.
Keep your dog secured in a fenced yard or on a leash when outside the yard.
Never allow your dog to run loose through neighborhoods and city parks.
Keep gates secured or locked to keep children from entering your yard uninvited while your dog is outside.
If you have any doubts about your dogs behavior with people coming to your home, put your dog in another area before opening the door to a visitor.

Children should tell an adult right away.
Wash the wound with soap and water and immediately consult a doctor.
Report the bite to Fort Wayne Animal Care & Control or the County Animal Control Officer. Provide as much information about the dog as possible and what the dog looked like, where you saw the dog, and if you know where the dog lives. Animal Control will try to locate the dog as quickly as possible.