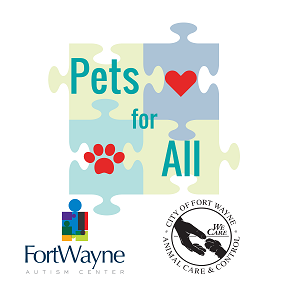 We are so happy to team up with Fort Wayne Autism Center to offer a camp for children of all abilities!
Click HERE to register for Pets for All Summer Camp!
This special two day camp will allow children with any learning difference and/or disability to explore animals at the shelter. Campers will be able to bring one parent or guardian to camp with them each day. Trained volunteers and staff from Fort Wayne Autism Center will be on hand to assist all campers during the camp along with shelter staff! Camp will run from 9 am – 12:00 Friday, August 3 and Saturday, August 4.
- Camp capacity is 15 campers
- Registration fee is $50 (includes t-shirt for the camper!)
- Each camper will be able to bring a parent or guardian with them each day
- Camp runs from 9 a.m. - Noon
- Campers will learn about the shelter, responsible pet care, explore the joys of pets and understand how to be safe around pets during the fun, interactive camp
- This camp is open to campers of all abilities and learning differences!
Questions about the summer camps or Teen Buddies? Email This email address is being protected from spambots. You need JavaScript enabled to view it.