Investing in our Neighborhoods
BLACKHAWK / BLACKHAWK FARMS / BLACKHAWK FOREST NEIGHBORHOOD
UPDATES
August, 2015 - Contractor is continuing to work on "punch list" of closing items.
July 27, 2015 - Contractor is working on "punch list" of closing items. Primco is expected to have that list completed by Aug. 14.
June 25, 2015 - Finishing up with a few sections of street and, also a few ADA ramps.
June 16, 2015 -- Contractor is about 85 percent done with the entire project.
June 2, 2015 - Contractor is about 95 percent complete with finishing up on section 4, 70 percent complete in section 3
On May 29, contractor started removing on Ponema Ct. Contractor is 95 percent done in Section 4 and 70 percent done in Section 3
Nov. 17 - NO SALT on new concrete streets & sidewalks!Please be aware that new concrete streets cannot have salt applied to them for the first year after they've been poured. Snow removal teams are using sand to treat new concrete streets, after yesterday's snowfall. Residents are asked to also use sand -- and NOT SALT -- on new concrete drive approaches and sidewalks in the Blackhawk, Blackhawk Farms and Blackhawk Forest area.
Nov. 7 - From this point on, Bob Widner is the primary Project Coordinator for the Blackhawk, Blackhawk Forest & Blackhawk Farms Street & Sidewalk Repair Project.
Nov. 6 - Leaf collection crews will make another pass through North side neighborhoods next week. They could be in the Blackhawk, Blackhawk Farms, Blackhawk Forest area as earlier as Wednesday, Nov. 12. There is no leaf collection on Tuesday, in observance of Veteran's Day.
Oct. 27, 2014 - Phase 1 of the project - which includes work in Blackhawk Forest - has been nearly completed -- with the exception of two ramps, a section of sidewalk along Blackhawk Lane and miscellaneous items. Phase 2 work continues in the Blackhawk neighborhood -- the eastern section of neighborhood, off State Boulevard and Lahmeyer Road.
Oct. 14, 2014 - Leaf collection is scheduled to begin on Monday, Oct. 20 and crews will start collecting in North side neighborhoods, including Blackhawk, Blackhawk Forest and Blackhawk Farms! Crews will make a second pass Northside neighborhoods during the week of Nov. 10- 14. Click here to see a schedule and map - www.cityoffortwayne.org/leaves
Oct. 10, 2014 - Thank you to all the residents who attended the Blackhawk area neighborhood meeting at Blackhawk Middle School on Wednesday!
Sept. 30, 2014 - The Division of Public Works will host a neighborhood meeting on Wednesday, October 8, 2014 at 6 p.m. in the cafeteria of Blackhawk Middle School, 7200 East State Blvd. – enter thru door number #6. Representatives from the construction company and its sub-contractors, NIPSCO and the City will be present.
Sept. 29, 2014 - We want to keep you updated on the extensive concrete street, sidewalk and curb ramp improvements going on in your neighborhood. As construction began, it was discovered that several gas line connections needed to be lowered to meet State standards. NIPSCO has been working to correct these issues. Unfortunately, this issue has delayed construction on the work in your neighborhood.
As of Sept. 29, NIPSCO has completed work in the Blackhawk Lane area. This week, they will begin lowering lines near Piegan Place, Hawkechee Drive & Kebir Ct.
Sept. 18, 2014 - Garbage and recycling vehicles have been having difficulty accessing your carts, due to the construction. We need your help in making the collection process easier for everyone involved. Flyers were placed in your door alerting you of this change. We are asking for your help! If further changes are needed, we will make adjustments. We appreciate your cooperation and understanding.
Trash & Recycling Collection during Neighborhood Construction: The night before collection day, residents should place their garbage and recycling containers near the curb, away from the barricades of construction zones for collection – which may be across the street or at the entrance of the cul-de-sac. If work is being done on your side of the street – and your street is torn up -- please move carts to the other side and place in the park strip. If the cul-de-sac is torn up -- even just on side -- it would be best to place carts at the entrance of the cul-de-sac, at the main/intersecting road. Trucks are not able to back out of cul-de-sacs, so they won't be able to drive into a cul-de-sac that is torn-up.
If garbage collection trucks are not able to get to your street, due to construction work, they will try to collect the next day, before construction begins in the morning -- which could be as early as 5 a.m.
Also, to avoid confusion, please put your address on the lid of your carts with a piece of tape. For more information or updates on construction in the Blackhawk area, go to http://www.cityoffortwayne.org/blackhawk
Completion date: July 27 2015
Contractor: PRIMCO Inc.
Investment: $2.48 million

Map318.08 KB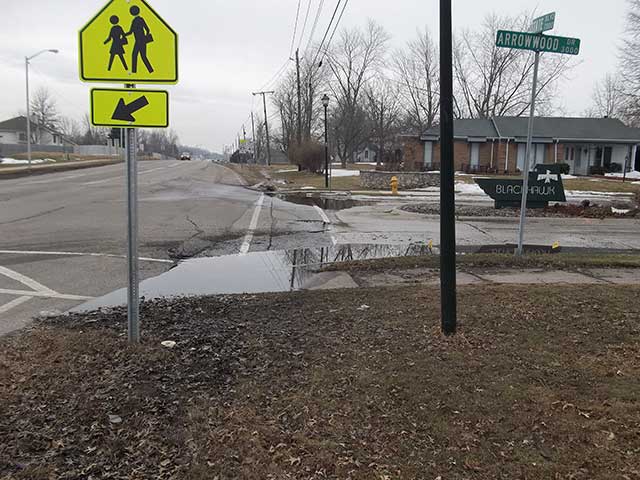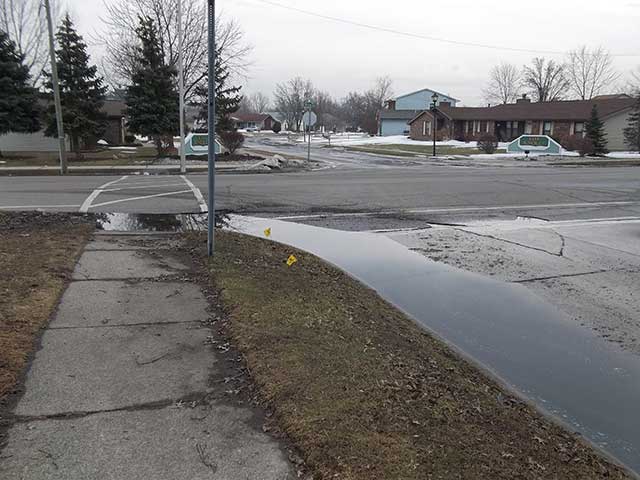 Description: Project includes spot repair and reconstruction of concrete streets in the Blackhawk, Blackhawk Farms and Blackhawk Forest neighborhoods.
Improvements also include repair and replacement of some sidewalks, removal of sidewalk trip hazards and the updating of ADA (Americans with Disabilities Act) sidewalk ramps.
Parking: Residents may not have access to their driveway while work is being done on the section of their street. Please park away from construction and DO NOT block traffic lanes.
Neighborhood Engagement: Public Works staff members have been meeting with neighborhood associations to give residents the opportunity to view work zones, meet the contractors and ask questions about work being done in their neighborhoods. For questions or concerns, you may reach the Division of Public Works by calling 311 or 427-8311.
Warning: PLEASE DO NOT move barricades placed by the contractor, in an attempt to get into your driveway or down the road. A road that "looks" dry -- but is still barricaded -- is NOT complete. It takes 7 to 14 days for proper cure of cement concrete pavement and drive approaches. If this curing time is not given, and vehicles are driven on the new road, the concrete repair will NOT last and road quality will be comprised!!!!