Investing in our Neighborhoods
MAYSVILLE ROAD ENHANCEMENT
Contractors: Brooks Construction and S & S Directional
Start date: Spring 2018
Completion Date: End of 2018
Investment: 5.8 million
Description: This project involves the widening of roadway from 2-lane to 4-lanes, with center turn, from Stellhorn Road to Meijer Drive. It also includes improved sidewalk on east side and trail on west side, two pedestrain bridges, storm sewers, water main and sanitary sewer.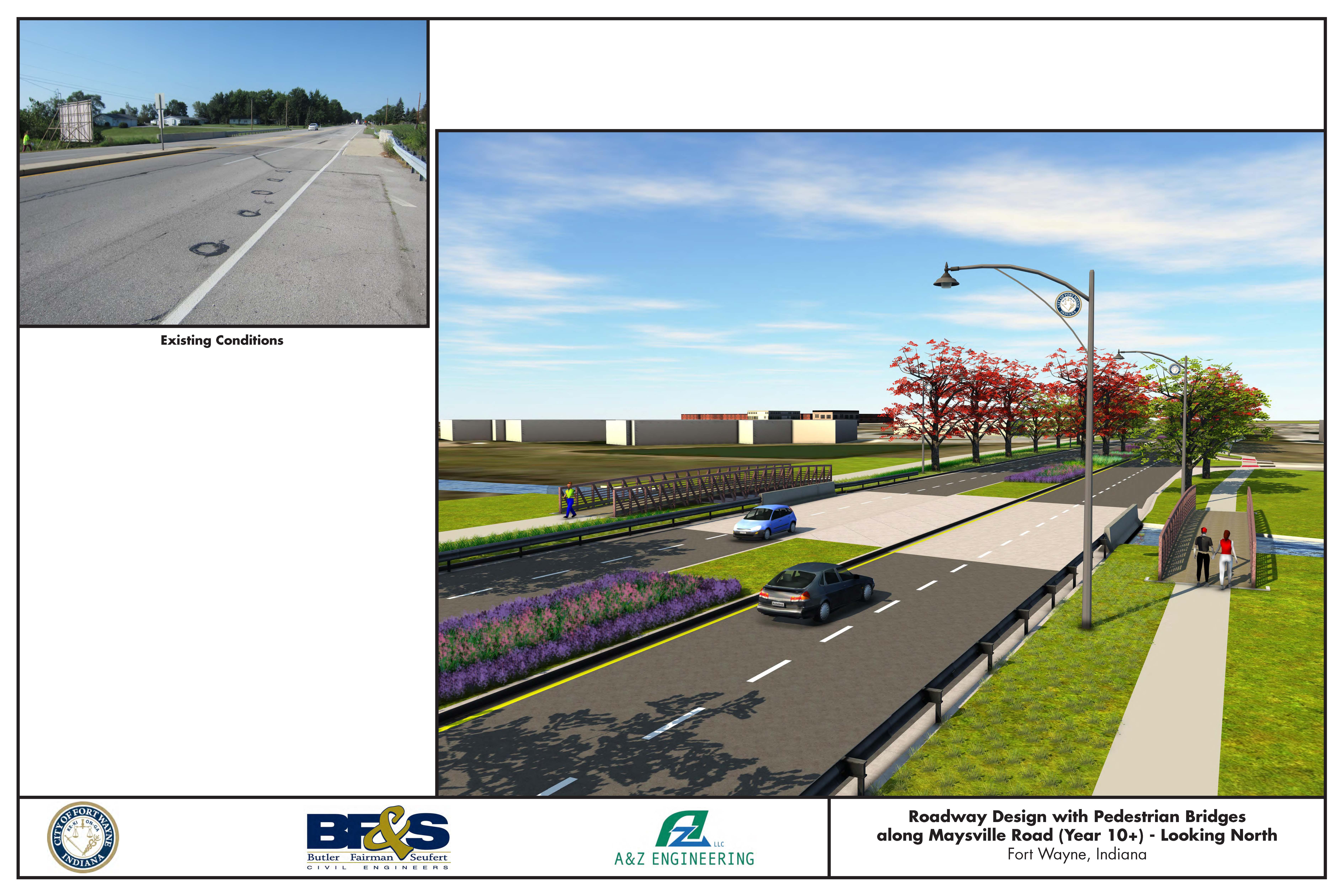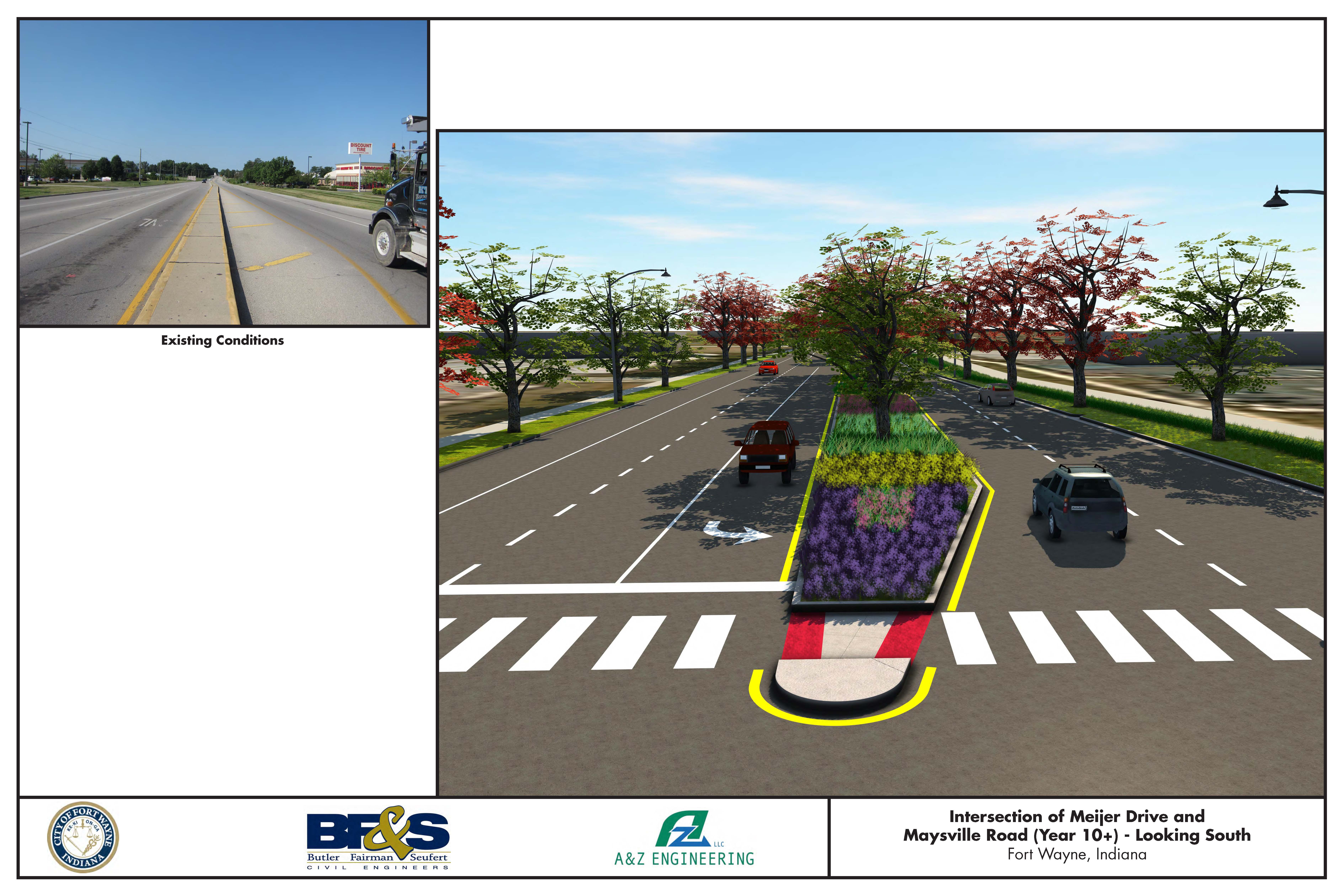 PROJECT UPDATES:
February 2018: Clearing of right of way
March - May 2018: Work completed on sewer, sanitary, storm and water lines
June 2018: Curb along east side of Maysville Rd. completed, east side of bridge and drive approaches poured
July 2018: Both pedestrian bridges were delivered and set in place, sidewalk poured, surface paved and guard rail installed on the east side of Maysville. Traffic switched to the east side on 7-27-18.
August 2018: Crews preparing southbound lanes and west side for pouring of sidewalks and roadway
August 13-17, 2018: Contractors continued with prepping for the pouring of concrete, new street light poles were installed on the east side of Maysville and drain tile placed on the west side. Crews were able to clear debris from the north and south sides of the bridge approaches before rain and storms arrived at the end of the week.
August 20-24, 2018: Work on the pedestrian bridge and drive approaches commenced when possible in between bouts of rain
August 27-31, 2018: Brooks Construction poured new curbing on the south side of Stellhorn Road in the beginning of the week and moved to the north side curbs at the end of the week. Dry weather allowed for debris removal and power washing of the west pedestrian bridge. Crews prepped and poured the bridge deck rail on the west side of Maysville Rd.
September 4-7, 2018: Curbing poured on the west side of Maysville Rd
September 10-14, 2018: Crews prepped for asphalt along the curb line on the west side of Maysville Rd. and poured curb for the center median as another crew poured concrete for new light pole bases.
PLEASE DO NOT MOVE BARRICADES
Newly poured concrete needs 7 days to cure. Do NOT move barricades and drive over concrete that is curing. It can damage the concrete, reduce the pavement's life -- causing it to crumble within months. Please be vigilant and stop people from moving barricades.
Parking: Residents may not have access to their driveway while work is being done on the section of their street. Please park away from construction and DO NOT block traffic lanes.
Trash & Recycling Collection: The night before collection day, residents should place their garbage and recycling containers near the curb, away from the barricades of construction zones for collection – which may be across the street or at the end of the cul-de-sac.
If garbage collection trucks are not able to get to your street, due to construction work, they will try to collect the next day, before construction begins in the morning. For more information, call 311.
Neighborhood Engagement: Public Works staff members have been meeting with neighborhood associations to give residents the opportunity to view work zones, meet the contractors and ask questions about work being done in their neighborhoods. For questions or concerns, you may reach the Division of Public Works by calling 311 or 427-8311.