The Traffic Engineering Department is responsible for roadway operations, maintenance and program implementation. The Traffic Engineering Department strives to provide safe and efficient movement of vehicles, people and goods through the community advocated by established regulations and the elected administration, including: to produce the maximum level of traffic service with limited resources for capital improvements and operation; to develop new engineering techniques to move people and goods safely and efficiently; and to create and maintain a communication channel between the administration and the public. To contact the Traffic Engineer, please call (260) 427-1172 or e-mail This email address is being protected from spambots. You need JavaScript enabled to view it..
Services offered by the Traffic Engineering Department:
Traffic Studies & Surveys (Obtaining factual data, analysis of data, recommendations)

Accident Studies & Collision Diagrams

Complaint Requests & Investigations

School Crossing & Safety Studies

Pedestrian Studies

Review Building Permit Applications

Review Proposed Residential, Commercial & Industrial Access Permits

Amendments to City Traffic Code

Emergency Detours & Street Closures

Planning & Design of Traffic Control
STREET CLOSING & LANE RESTRICTIONS
Traffic Engineering works with various city departments, private contractors, construction contracts, developers and businesses on requests for closures or restrictions. Full road closures are typically avoided unless work operations or safety is compromised. The city permits work on city streets, but work on roads such as Coliseum Blvd (SR 930), Lima Road (SR 3), Clinton & Lafayette (US 27), Illinois Rd (SR 14) are permitted by the Indiana Department of Transportation (INDOT).
In 2018, there were 1,400 closure/restriction permits approved for work on city streets. Below are links showing active projects or work within the city.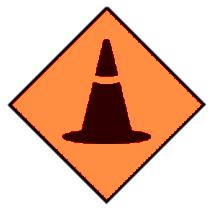 CLICK TO VIEW CURRENT ROAD RESTRICTION LIST
TRAFFIC CALMING
Traffic Calming is a program offered by the city to help residents work with the city on potentially making changes to residential streets to help slow or change traffic patterns. Below are links outlining this program.
Traffic Calming Policy/Program *1/15/20*
Radar Speed Display and Traffic Data Collection
*Fort Wayne and FWCS Radar Speed Display Counter information can be found https://streetsoncloud.com/public/City+of+Fort+Wayne
Traffic Calming Petition Form (Parking Designations or One Way)
Traffic Calming Petition Form (Stop, Speed Limit, Other)
TRAFFIC MAPS
There are various maps useful to our department and the public specific to traffic within the city limits. Below are links to useful information such as speed limits, classifications, and ADT.
Truck Route Map - With Bridge Weight Postings
2019 Average Daily Traffic Map (ADT) * Updated 1/14/20
TRAFFIC ENGINEERING STANDARDS
Standards used by Traffic Engineering may be useful in your planning or understanding of traffic. Below are links used by the department for guidance in design or construction of traffic facilities.
Parking Meter Map Location - ** New 3-15-19 **
TRAFFIC ENGINEERING REGULATIONS
Title VII of the City Code outlines general traffic regulations such as operation, parking, and definitions. Below are links which may help clarify some of these regulations within the city.
STREET LIGHT ENGINEERING
Go to Street Light Engineering page
To report a street light or alley light out, please call 427-8311 or 311 OR report here on-line. Please provide the pole number located on the yellow verticle tag labeled Street Light, the address of the light and a contact name and number in case there is a problem with the light.
TRAFFIC OPERATIONS
The Traffic Operations Division is responsible for the installation and maintenance of Street Lights, Signals, Signs, Pavement Markings, and City Communication lines within the city. The City of Fort Wayne owns 299 traffic signals within the city limits, and additionally maintains approximately 100 traffic signals within Allen County.
* Applications Subject to Review and Existing Banner Application Coordination
MARTIN LUTHER KING (MLK) BRIDGE
The MLK Bridge was completed in July of 2012. The MLK Bridge not only serves a purpose as a beautiful memorial to Dr. King, but it also serves as a gateway entrance into downtown Fort Wayne.
MEMORIAL PARKWAY
The Division of Public Works will work with local residents on establishing Memorial Parkways. Memorial Parkways will be designated with signage along the route approved by the department.
Current Listing of Memorial Parkways *please notify department of any errors or omissions*
Memorial Parkway Biographies - those who make our community great!
GENERAL INFORMATION
Accessible Parking Application Form
Parking Designation Petition Form
Oversized & Overweight Vehicles Information - *Please Reference the Truck Route Map Above for routing*
Traffic Signal Cabinet Art Program (NEW 4/25/19)
Land Use, Permitting and Inspections Satisfaction Survey
To report traffic or pedestrian signals out at an intersection, please call 311.
To report existing traffic signs down, please call 311.
200 East Berry Street, Suite 210
This email address is being protected from spambots. You need JavaScript enabled to view it.