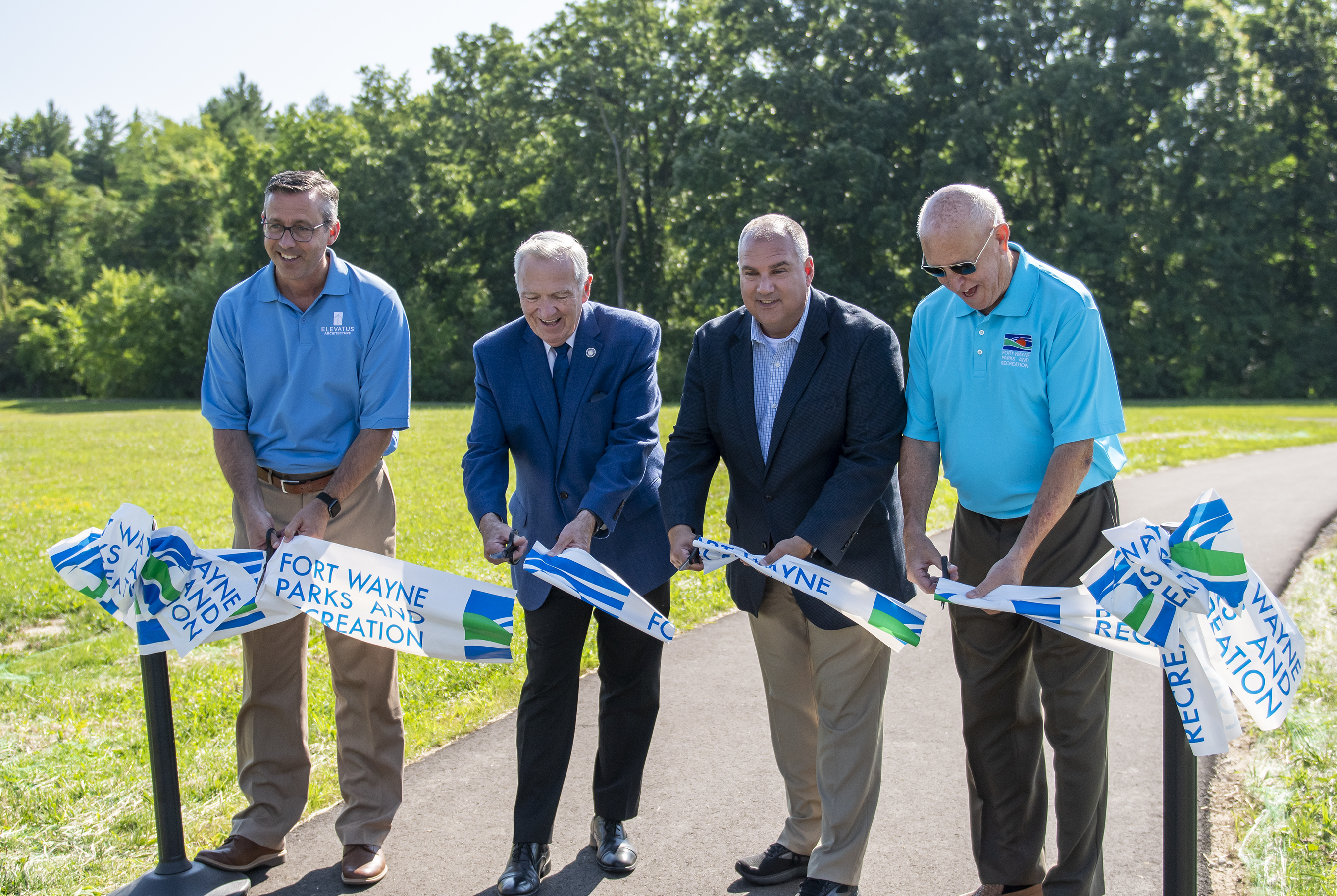 We'll look back at the soon disappearing summer as one of success in Fort Wayne. Neighborhoods, downtown parks, and public safety all have seen positive growth and projects and initiatives that have been completed or are in the process of being finished.
Neighborhoods and downtown
*The completion of the Fort Wayne Veterans Memorial Bridge over Spy Run Avenue near The Old Fort is a 2023 highlight. The renovation of this signature gateway bridge provides motorists and pedestrians with safe and innovative ways to navigate Fort Wayne. Leaders are grateful for the opportunity the community has to honor and recognize all branches of the military.

*The Public Works Division is in the process of completing a record $48.3 million in upgrades to neighborhood streets, roads, sidewalks, alleys, bridges, and trails in all four quadrants of the city.

*City Utilities is in the midst of a record year of $135 million of water, sewer, and stormwater improvements in dozens of neighborhooods.

*The Fort Wayne Public Art Commission dedicated Pillars of Hope and Justice, a public art monument commemorating the June 5, 1963, visit of Dr. Martin Luther King Jr. to Fort Wayne, during which he gave a speech sharing his vision for nonviolent resistance. At a public event, King's son, Martin Luther King III, helped city and community leaders dedicate the monument, which is located at the northwest corner of West Main and Ewing streets. King was joined in making remarks at the dedication event by Mayor Tom Henry, sculpture artists Shane Allbritton and Norman Lee, the Rev. Dr. Bill McGill of Imani Baptist Church, and City Council members Michelle Chambers and Russ Jehl.

The dedication ceremony was followed by a 60th anniversary celebration held in the USF Robert Goldstine Performing Arts Center (the former Scottish Rite Auditorium, where Martin Luther King, Jr. gave his 1963 speech). The celebration included further remarks from guest of honor Martin Luther King III and Mayor Henry; information on the reconstruction of Dr. King's speech from Todd Pelfrey, executive director of the History Center; and a recitation of King's speech by Rev. McGill. It also included performances by the Fort Wayne Community Choir and the debut of a newly commissioned musical piece, "Transcendence," created by Derek Reeves, principal violist with the Fort Wayne Philharmonic. Reeves was joined by pianist Alicia Pyle.

*Mayor Henry led a grand opening and ribbon cutting ceremony for The Riverfront at Promenade Park and the completion of Riverfront Park Public Space Phase IIa. The Riverfront at Promenade Park private investment is a six-story, mixed-use building that includes more than 200 apartments, seven town homes, and a 900-space parking garage. There is approximately 30,000 square feet of office space now occupied by anchor tenant Swiss Re and nearly 15,000 square feet of retail space. The total project investment is $88.7 million. Riverfront Phase IIa was designed primarily as a connection between Promenade Park and Headwaters Park, filling in a missing piece of park space and providing a vital connection between what is now nearly one acre of public park space on the south side of the St. Marys River. The Phase IIa investment was approximately $2.6 million.

Parks
*Mayor Henry led a celebration for the grand opening of McKinnie Commons Park. In 2019, the Community Development Division and the Southeast Area Partnership worked with residents to develop the Southeast Strategy Update, which focuses on reinvesting in the southeast quadrant. McKinnie Commons was highlighted in the Update under Public Spaces & Interconnectivity. The newly constructed gathering space offers a bandshell for entertainment, space for food trucks and pop-up vendors, outdoor dining areas, bike racks, large swings, and many other amenities.

*Work has started on phase one of the Franke Park Renaissance Master Plan. A recent groundbreaking event followed five years of planning and fundraising with an Advisory Group of major park stakeholders and robust public input.

Phase one is expected to be completed by the end of 2024 and will include:
-New winding, tree-lined entrance from Goshen Road
-New bridge over Spy Run Creek
-New enclosed, rentable pavilion with capacity for 400 people with parking
-A paved multi-use trail, thoughtful vehicular circulation, and connection to residential neighborhoods in the southwest corner of the park
-Improvements to the mountain bike and hiking trails

*Improvements to Buckner Park – The park now features a new paved pedestrian trail and picnic shelter. A ribbon cutting ceremony highlighted some of the park's unique geographical areas including grass prairies, wetland, stream crossings, woodlands, and vistas. This ¾ mile trail to the new picnic shelter winds through these areas and offers bench seating made from recycled materials at scenic spots. A portion of the funding for this project was provided by the Land and Water Conservation Fund with the assistance from the Indiana Department of Natural Resources.

*Jennings Center celebrates 75 years – At a special ceremony, youth there presented Mayor Henry with a card to show their appreciation for the free programming available for kids throughout the year. The center officially opened in the summer of 1948 as the McCulloch Recreation Center and was renamed in 1992 after longtime director Albert George Jennings. The center is known for being a safe haven and meeting location for kids and families and for hosting many special programs including a youth scholarship, basketball leagues for all ages and an annual holiday event.

*Bowser Park turns 100 – Parks and Recreation recently dedicated improvements to Bowser Park. The park sign now proudly displays a Centennial Legacy Park insignia. In addition, a revolving art mural evokes civic pride in the park and neighborhood and stands just yards away from the original stone marker provided by Sylvanus and Sarah Bowser in 1923. The stone is inscribed "for the comfort and pleasure of our neighbors and their children for all time to come." Interior and exterior upgrades to the pavilion feature updated restrooms and walkways to make them accessible to individuals with disabilities, concrete improvements, and a new roof.

Public safety
*Construction of a new fire station 14 at East State Boulveard and Reed Road is almost complete.

*The Fort Wayne Fire Department's 95th recruit class started with 28 individuals. Fourteen percent of the class are in a minority group, including two males who identify as Black, one male who identifies as Asian, one male who identifies as two or more races and four females who identify as White. There are also four veterans in the class. The recruits are participating in 20 weeks of training before their graduation day on October 26.

*The Fort Wayne Police Department's 67th recruit class recently graduated with 22 individuals becoming fully commissioned police officers. This helps bring the department to 500 officers this year.

As we move into fall, we look forward with optimism as evident momentum, growth and success are happening in all four quadrants of our great city. We're in store for a exciting final few months of 2023.