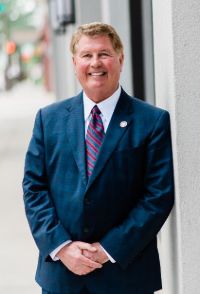 As Councilman, Geoff Paddock works for the residents of the 5th District. A Fort Wayne native, Geoff has built an unmatched record of public service and commitment to strong values. As the Executive Director of Headwaters Park, Geoff has brought people, jobs, and economic growth to Fort Wayne.
The Executive Director of Headwaters Park, Geoff led the project that transformed 30 acres downtown into a beautiful park, festival center, and ice skating rink. Drawing over 500,000 people to the heart of Fort Wayne each year, Headwaters Park cost taxpayers little while creating jobs and economic growth downtown.
As former President of the Board of Trustees of Fort Wayne Community Schools, Geoff has been a strong proponent of public education and has worked efficiently with a budget of over $250 million.
Serving on the Northeast Indiana Passenger Rail Association (NIPRA), Geoff led the fight to include Fort Wayne on the proposed passenger rail route from Chicago to Cleveland. He will continue to work to make sure Indiana does not fall behind as plans advance to build a modern passenger rail network across America.
Geoff serves on the Urban Enterprise Association board of directors as part of his City Council assignment. In 2015, he was appointed to the Board of Trustees of Indiana Tech. Geoff was awarded the Sagamore of the Wabash by Gov. Evan Bayh, received the Charles B. Redd Voter Empowerment Award by the NAACP in 2014 and was given a Community Achievement Award by theDepartment of Public Policy, Indiana/Purdue University at Fort Wayne, 2015.
Now in his third term of office, Geoff serves as Co-Chair on the City Council's Finance Committee.
Geoff is a lifelong resident of Fort Wayne with a Master's Degree in Public Administration. He is the author of two books; Headwaters Park, Fort Wayne's Lasting Legacy (2002) and Indiana Political Heroes (2008). He has also taught at PFW and for the Junior Achievement program in our public schools.
Councilman Geoff Paddock may be reached at:
This email address is being protected from spambots. You need JavaScript enabled to view it.
3744 S. Washington Road Fort Wayne, IN 46802
(260) 432-5700

or through the City Council Office at:
200 E. Berry St., Ste. 120
Fort Wayne, Indiana 46802
(260) 427-2977
This email address is being protected from spambots. You need JavaScript enabled to view it.