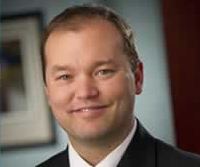 Russ is honored to be serving on the Fort Wayne City Council and was elected as President of the board for 2016. Fort Wayne is where he and his wife, Monica, grew up. It is the community they happily calI their "home", raising their son William and daughter Anna.
Russ is a graduate of Concordia Lutheran High School and earned his B.A. in Financial Management from Hillsdale College in Michigan. He has 10 years of experience as a broker specializing in retail and commercial real estate leasing with the Bradley Company where he has completed over 300 real estate transactions and represents 14 shopping centers with over 600,000 square feet of space.
In his position as an elected official, Russ currently serves as co-chair of the City Council's City Utilities Committee and is the Council's appointee to the HANDS board as well as the Solid Waste Committee.
Other volunteer memberships and services include Fort Wayne Sports Corporation Board, Parkview Health Network Select Committee, Junior Achievement-High School Economics, Concordia High School volunteer assistant Varsity Soccer Coach and recipient of the Neal T.Shank award for community service.
Professional affiliations include Indiana Commercial Board of Realtors, International Council of Shopping Centers, Indiana Commercial Real Estate Exchange and Northeast Indiana Commercial Industrial Brokers.
Russ and his family are members of Fellowship Missionary Church where they are active in a variety of volunteer outreach programs.
Russ always looks forwarded to serving the constituents of the city's 2nd District.
Councilman Russ Jehl may be contacted at:
260.255.4580
This email address is being protected from spambots. You need JavaScript enabled to view it.
or through the City Council Office at:
200 E. Berry St., Ste. 120
Fort Wayne, IN 46802
260.427.2977
This email address is being protected from spambots. You need JavaScript enabled to view it.