Updates
Augus 18, 2020 -- Work is progressing and crews are moving forward with road restoration. The intersection is scheduled to open next month to traffic. Restoration work will continue after the intersection opens and their will be occasional lane restrictions.
July 2020 -- The intersection at Broadway/Rudisill was to open after ten months of construction during the 18-month project. Plans called for opening one lane in each direction in late May/early June with remaining lanes closed through February of 2021, the 18-month completion date.
During construction, crews discovered that existing infrastructure needed additions and repairs. That work includes the lining of a 30-inch sewer pipe and the installation of additional storm drains. The work is not part of the consolidation sewer project and would be peformed after February of 2021.

Realizing the impact this project is having on the neighborhoods, the crew came up with a plan to accelerate the schedule by keeping the road closed and finishing the project with the additional infrastructure work, five months early. The accelerated schedule keeps the full intersection closed through September, but the entire project, except for grass/plant restoration, would finish in September.

We discussed this with the neighborhood presidents in the area, and it was determined to get the full project done earlier would be better.

So, the road will reopen in early/mid-September, and the consolidation sewer and additional projects will be completed at that time, which is five months ahead of schedule.
April 30, 2020- To give you an idea of the scope of the project -- this photo shows the depth of the work for the consolidation sewer.
Project Information: The Rudisill Consolidation Sewer is a near-surface sewer that will capture combined sewer overflow and convey it to the Three Rivers Protection and Overflow Reduction Tunnel (3RPORT). The existing sewer pipes are below grade at the intersection of Rudisill and Broadway. Currently, two combined sewers that carry both sewage and stormwater dump an average of 392 million gallons of combined sewage into the St. Marys River per year. The consolidation sewer will divert the flow from the two pipes and transport it to a drop shaft that will connect it to the 3RPORT.
Estimated Completion Date: Spring 2021
Contractor: FA Wilhelm Construction Inc.
Project Investment: $6,000,000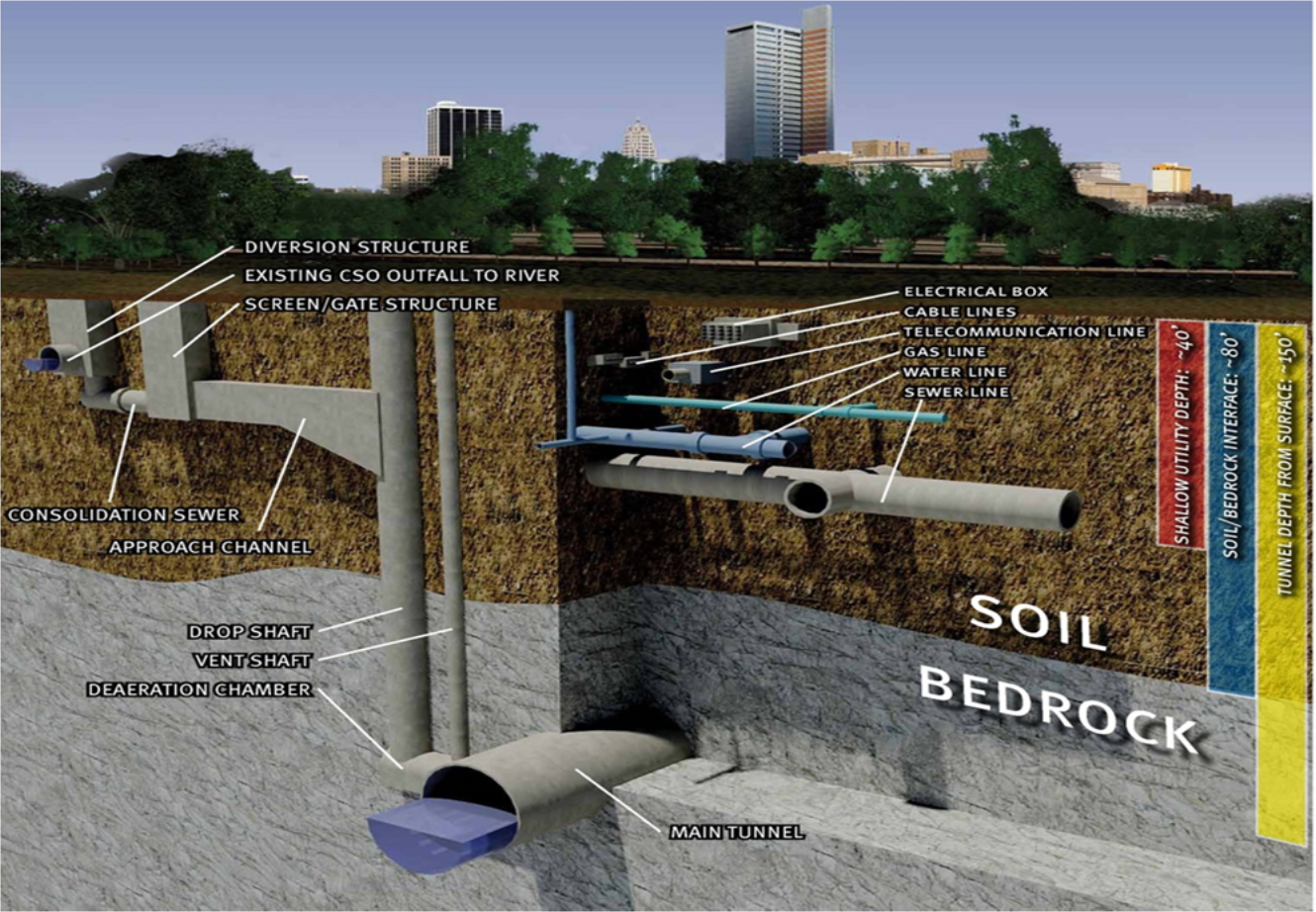 Project Pictures: