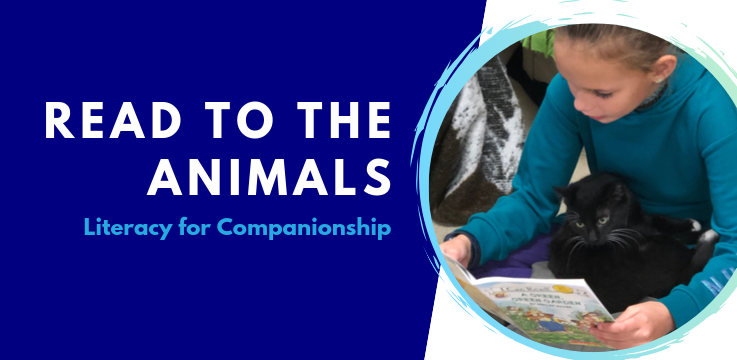 *This program has been suspended until further notice to better protect the health of the readers, staff and volunteers.*
(Registration will go live the first weekday of each month)
This program is held the fourth Monday of the month with 30 minute time slots from 3 p.m. - 5 p.m.
This exciting new opportunity allows children ages 5-12 to read to pets waiting on their forever homes. Literacy for Companionship Inc. is a local non-profit that aims to bring children and pets together through the joy of reading. FWACC's Humane Education Department's mission is to teach children empathy and kindness through animals, so the partnership is a perfect addition to our line up of existing programs.
Children can bring their own books or pick from our collection of Humane Education approved books!
Each child must be accompanied by a parent or guardian who stays at the shelter during their reading session

Each child can be registered for one 30 minute time slot per session

Readers must be registered to attend

Each reading session is limited to 5 readers to ensure each child has a great experience

The program is FREE!

Children must be 5-12 years old to participate
This program is held here at the shelter, 3020 Hillegas Rd. Please enter in the doors to the right of the building.
Questions? Contact the Humane Education department at This email address is being protected from spambots. You need JavaScript enabled to view it.