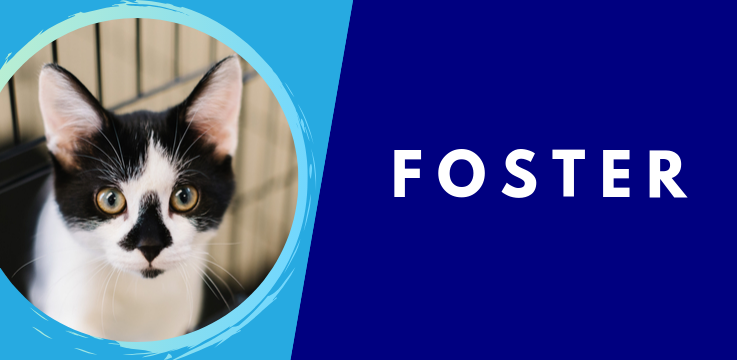 Are you looking for ways to help animals in your community? Let a furry friend crash at your place! Fostering plays a crucial role in saving the lives of ore than a thousand animals each year. By opening your home for a short period of time you can help save lifes too!
FIND UNWEANED KITTENS? CLICK HERE TO LEARN MORE ABOUT WHAT TO DO.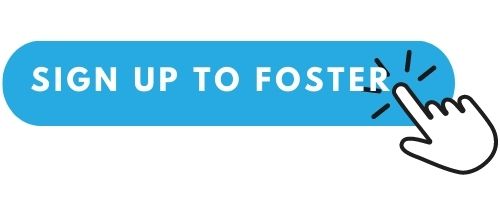 WHAT ANIMALS CAN I FOSTER?
The majority of the animals in need of foster families are kittens. More than 1,200 animals have gone through the foster program in 2021. We occasionaly do need fosters for dogs with medical needs, litters of puppies and small animals.
HOW LONG WILL I HAVE THE ANIMALS?
It depends on their needs! For kittens, they'll stay a few weeks to about a month until they reach 2 pounds and are ready to come back to the shelter for their spay or neuter surgery and then go into adoptions. If you are fostering an animal with special medical needs - it's case by case how long they will stay. Your foster coordinator will provide you with all the information when you take an animal home.
DOES YOUR FOSTER PROGRAM FOSTER OWNED ANIMALS?
Unfortunately, our foster program is only for animals that are currently in the shelter. We suggest giving Humane Fort Wayne a call at 260-744-0454 to inquire about their Compassion Foster Program.
WHAT IS MY FINANCIAL RESPONSIBILITY?
Fort Wayne Animal Care & Control covers the cost of everything! We provide everything you'll need at home from food to supplies and we cover all medical costs. If you are able and would like to purchase some of the simple supplies you need at your home that's great!
WHAT IF I CAN'T FOSTER, BUT STILL WANT TO HELP?
Since our foster program is funded solely from donations and a generous grant, you can always help us out by donating products our foster team is always restocking.
Here is a list of our most needed items for our foster program. Click on them to purchase directly from Amazon:
Royal Canin Mother & Babycat dry food
Royal Canin Mother & Babycat wet food
Science Diet Canned Puppy Food
Science Diet Canned Pate Turkey Kitten Food
Cat Litter Scoops
Cat Toys
Laundry Baskets
Puppy Potty Pads (disposable or washable)
---
If you currently have fosters at your home and are experiencing an emergency please review the emergency protocol below. If you are not experiencing any of these issues please contact the foster department during normal business hours for further assistance.
NOTIFY US IMMEDIATELY AT 260-427-5551 IF YOU FOSTER IS...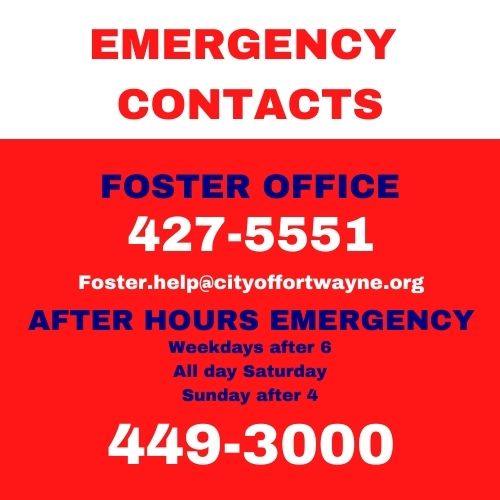 - Unresponsive / unable to stand or walk
- Difficulty breathing
- Severe trauma
- Profusely bleeding
- Ingested a dangerous item (medication/chemicals)
- Seizure/ disoriented
- Any bite from a foster that breaks the skin
- Lost foster animal
*DO NOT MESSAGE THE FOSTER FACEBOOK PAGE AS IT IS NOT MONITORED 24/7
**When calling the emergency number after hours please let dispatch know that you are a current foster and need to speak with an animal control officer. If you live outside of city limits, we may request that you meet an Animal Control Officer at the shelter.**
Questions? Contact the foster department at This email address is being protected from spambots. You need JavaScript enabled to view it. or 260-427-5551.