At times we find a glimmer of hope in horrible circumstances.
One month ago a frail grey and white dog was carried into our building by Officer Hull, one of our animal control officers. Officer Hull had been called out by the Fort Wayne Police Department after discovering him in a basement. The mere sight of Prince was shocking. We had to question, "How was this dog still clinging to life?" The word skinny could not begin to describe the physical appearance of this undernourished dog named Prince. At a mere 34 pounds this large structured dog was unable to walk or stand simply due to lack of strength. As we learned the details it became more apparent his will to live overcame his circumstances.
Prince lived in a dark,concrete basement and was fed ra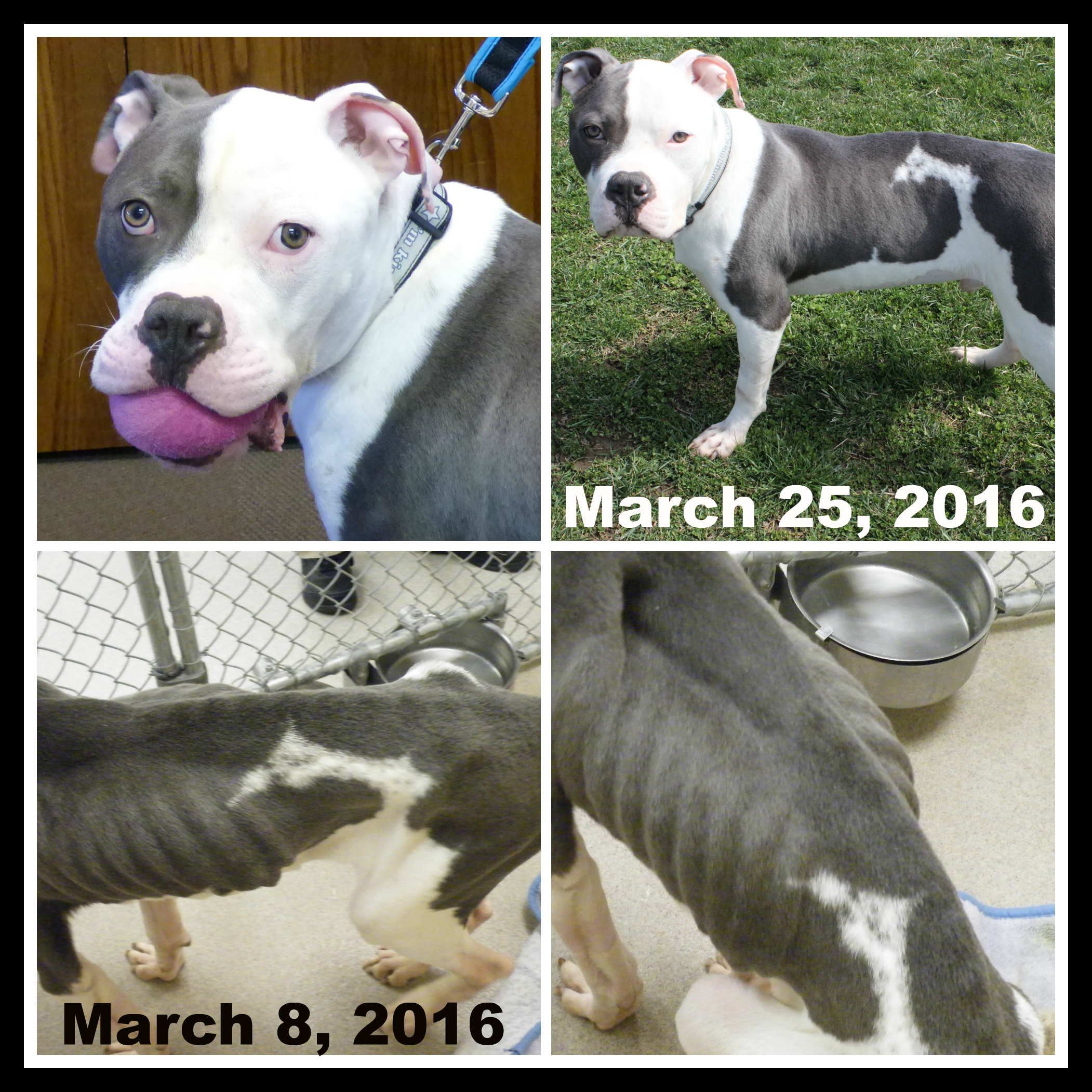 tions of canned vegetables.
Upon initial exam in the shelter, his critical medical state was apparent. Each bone was well defined as his body was left with no choice but to consume muscle tissue. Unfortunately for Prince his road to recovery was about to become longer. The Animal Care staff began to recognize signs of distress consistent with a foreign object in the digestive track. Prince was transferred to Northeast Indiana Veterinary Emergency and Specialty Hospital (NIVES) for emergency surgery. Dr. Rebecca Essig was the surgeon who took on the medical challenge of performing the procedure on an already critical patient. It was a long shot for Prince, but he had already overcome so much already, we had to attempt to save him.
It became apparent during surgery Prince had turned to other objects to satisfy his hunger pains. Several socks were removed from his digestive system along with other various materials. This type of extensive surgery can be difficult for a healthy dog let alone a dog that had other medical concerns. Now there was nothing left to do but wait to see if his fragile body was strong enough to overcome yet another obstacle. Prince stayed in the Intensive Care Unit at NIVES for several days. Lying in his kennel, he would look up at the staff with his big blue eyes searching for a friend. He easily became a favorite with his loving demeanor. It's a wonder how an animal that has been through so much by the hand of a human could still remain open to loving them.


Prince in early March, 2016 weighing a mere 34 lbs.

Prince (shown below) is now HOME and happy spending his life with his new family! 63 lbs