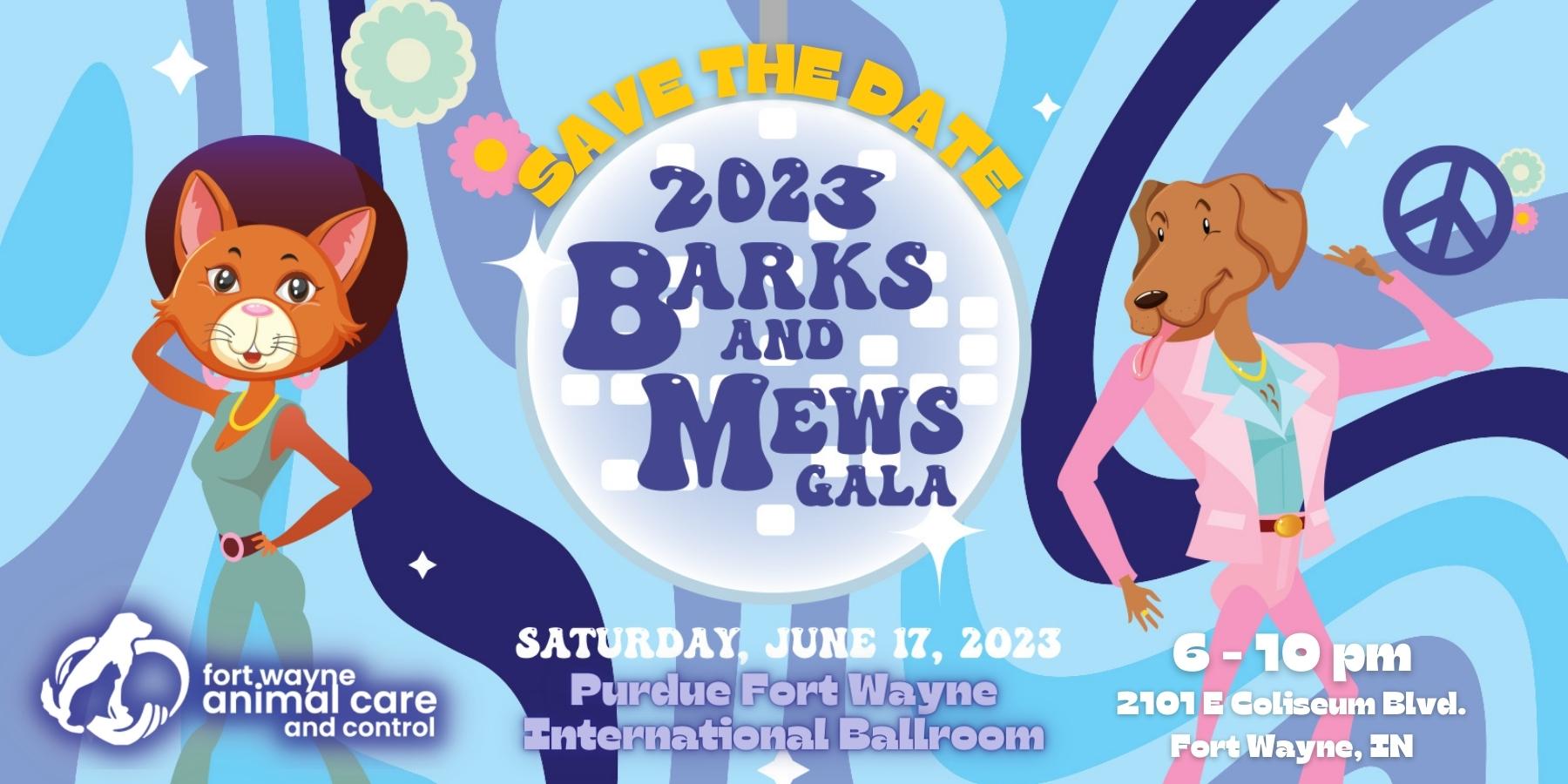 City of Fort Wayne, IN – Fort Wayne Animal Care & Control is back with their Barks and Mews Gala to raise funds for their Angel fund!

Fort Wayne Animal Care and Control held its first gala January 11, 2020. Because of its positive outcome, many were looking forward to the following year. However, due to the unforeseen circumstance of COVID-19, it was cancelled.
The 2023 Barks and Mews Gala will be held on Saturday, June 17th at Purdue Fort Wayne Walb Student Union in the International Ballroom. This event will be 6 p.m. to 10 p.m. Doors will open at 5 p.m. Emceed by WANE 15's Emily Dwire. This year's gala is a 70's theme with a dance demonstration and lessons from the Fort Wayne Ballroom Club, dinner and drinks, a silent auction and gift card pull.Be sure to capture the memorable night by stopping at the DigiBooths Selfie Booth!
On this night, the Fort Wayne Animal Care and control will be honoring the memory of two of their long serving and dearest volunteers by awarding two current volunteers. This is to show the appreciation for the work they do that serves not only the animals, but the shelter and our community.

The Angel Fund helps provide crucial life-saving medical care to shelter animals. Being Northeast Indiana's largest open access shelter, we cannot turn away animals brought to us from Allen County - no matter the condition they are in. Because of this, we utilize our Angel Fund almost daily to help the animals that have no other place to go.
Tickets are now available for purchase. Single tickets are $75, $550 for a table of eight, and donations are welcomed. Click here to purchase your ticket. If one is interested of being a sponsor to the event, please click here to be a sponsor.