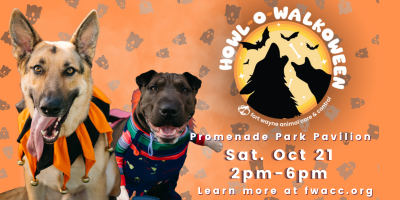 Fort Wayne Animal Care & Control is back with its fifth annual fundraiser, Howl-O-Walkoween with the popular pet costume contest!
The 2023 Howl-o-Walkoween will be held Saturday, October 21st at Promenade Park Pavilion located in beautiful downtown Fort Wayne. The event will run from 2 p.m. to 6 p.m. and will feature a pet costume contest, a walk through Promenade Park, raffle prizes, several vendors, and much more!
Registration for the pet costume contest and walk is $30 for adults, $10 for children and $60 for a family four pack. Participants who register on or before September 1st will receive $5 off their total and will be entered in a raffle for a shelter visit. Registration will be available at the event as well.
In addition to the in-person events, there is an online clothing fundraiser featuring a design by Graphics by Sarah Nicole. The clothing fundraiser will run through the entire month of October at fwacc.org
This year's guest of honor will be Joey. Joey is a two-year-old Brindle and Pit Bull mix who was saved by the good Samaritans of Fort Wayne earlier this year. When Joey was brought to the shelter, he needed immediate care. Joey was severely underweight, stained in urine, and had an arched back. One of our goals was to gain his trust, and when we did, his true personality blossomed! After all the teamwork and one-on-one attention Joey was available for adoption. Joey now has one dog sibling and two cat siblings to be friends with. He will now be forever loved and spoiled as he deserves.
All the money raised during the Howl-o-Walkoween will go directly toward the shelter's efforts to end animal cruelty and neglect through education. Research has shown that there is a direct link between animal abuse and other types of abuse like domestic violence, child abuse and elder abuse. Children who are abused or witness abuse are more likely to become abusers themselves, often starting by hurting animals. The Humane Education Department at FWACC works to stop the cycle of violence by teaching children compassion and empathy toward animals. The Humane Education Department's program relies on donor dollars to reach thousands of children each year through its summer camps, reading program, teen programs, and much more.
To register for the event, learn about the costume contest categories, purchase a shirt from the clothing fundraiser or read more about Joey's story click here.